Best Remote Access Software of 2021
COVID-19 has affected us in so many ways but we managed to adapt. Customers are staying at home, your employees are staying at home and you can continue to run your business from the comforts of your own home.
Fortunately, your business doesn't have to be hindered by the chaos happening outside your doors. This is thanks to the available opportunities digital innovations bring us — like remote access software for windows.
With this tool, you can view or access another computer from anywhere in the world. This functionality is extremely versatile. You can use it to log into your work computer without leaving your home or you can share your screen with colleagues as you run a demo on your device. You can also move files between two computers without the need to go through email or file-sharing software.
The question is, with hundreds of remote software options to choose from, how do you decide which one is best for your employees, your customers, and your business?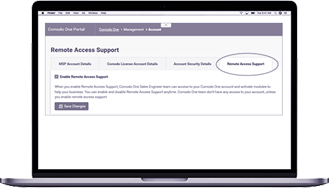 Best Remote Desktop Access Tool 2021
To help simplify the process, here are some of the best remote access software on the market you'd want to take into consideration:
Splashtop
If you're running a business all by yourself or managing a small team, Splashtop is an excellent choice. It is simple, straightforward, and easy to use.
For as low as $5 a month, you can take advantage of remote access from any device on up to two computers, which includes file transfer, remote print, audio access, and logging capabilities. You can also switch between monitors to quickly access what you need.
Splashtop uses TLS and 256-bit AES encryption, as well as device authentication, two-step verification, and 2nd-level password options to protect you and your devices. Put simply, you never have to worry about your connections or keeping your data and information secured.
You can upgrade to the Splashtop Pro plan for $8.25 a month per user and enjoy the following advanced features:
Remote desktop access for up to 10 computers
Ability to view multiple monitors at once
Two users accessing the same computer
Remote wake and reboot functionality
If you're wondering if Splashtop is a choice for many, this remote access software is being used by over 200,000+ businesses and 30+ million users currently.
RemotePC
RemotePC is the best choice if you're shifting to remote work for good or you've always been a distributed team.
You simply supply the tech and software stacks while your employees access their office computers from home. This is particularly helpful if you're relying on expensive software that needs powerful infrastructure.
With this remote access software for PC, you can connect to any device regardless of the device you want to access, including PC, Mac, iOS, Linux, and Android. You can do this with nothing but an internet connection since there's no need for any hardware or software installation.
Your employees can also access the software and tools they need to do their job without having to buy better hardware or expensive software on their own.
Users are able to connect to their work devices from anywhere in the world, transfer data, print documents, and invite coworkers to collaborate on their computer in real-time.
RemotePC's most affordable plan starts at $29.50 a year for one user. You can also upgrade to the Soho plan for $69.50 a year with unlimited users.
Zoho Assist
Zoho Assist is a cloud-based remote access software for scheduled and on-demand customer support sessions, rather than remote desktop access tool for your employees. This makes it a great choice for small to midsize businesses offering remote desktop support to customers.
Zoho Assist's basic features include access to live voice and video chat during sessions, reboot and reconnect capabilities, instant file transfers, screen sharing options, and more.
Additionally, you can remotely access and manage virtually any device, including:
PCs
Laptops
Mobile devices
And servers
These are all included in their free plan but if you're ready for an upgrade, they have the standard ($8/month) or professional plan ($13/month).
LogMeIn Rescue
Large businesses that offer remote desktop support require an enterprise plan with the bandwidth to handle a large team of technicians. For this, LogMeIn Rescue is a fantastic choice.
This remote access software for windows performs simple troubleshooting to complex workflows, making it perfect for enterprise IT and customer support teams.
Brands such as Geek Squad, 3M, Lenovo, and Canon are just some of the users that trust LogMeIn Rescue to give their customers a branded and seamless support experience from anywhere in the world.
Each plan includes:
Real-time monitoring
Screen sharing
Remote control access
File transfers
Customization and branding
Agent collaboration
However, LogMeIn Rescue can be a bit pricey as plans start at $108 per month. The good thing is, they offer custom enterprise-grade plans, which are available on request. This is perfect if you're running a large business with more advanced requirements and a higher budget.
Finding the right remote access software can be tricky if you don't know what you're looking for. But by identifying certain features and considerations, you should be able to thoroughly compare different options. Look out for pricing, security, functionality, the number of users and devices you need to cover, and customer support.