What is desktop management software?
A desktop management software is a comprehensive tool that oversees managing and securing all computer systems within an organization. Although it's called "desktop" management, it also includes the management of other devices, such as laptops and other computing devices that are used within the organization.
One of the biggest challenges IT managers face is keeping users' computers up-to-date, particularly with the continuous task of upgrading various software tools to prevent security breaches.
In addition to this, for any size of business with multiple servers, desktops, laptops, and tablets—which individually run different versions of various operating systems with their own set of software applications—it can be inconvenient and challenging to ensure everything is managed and secured properly. Not to mention that all of this has to be done while the admins simultaneously look after the hardware and software inventory, security, configurations, patches, and software licenses.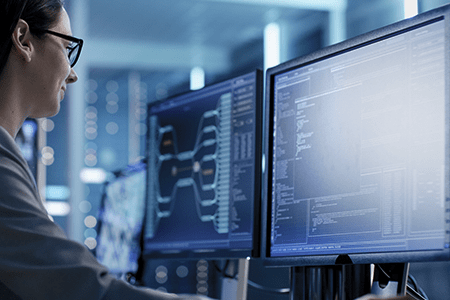 To counter this, desktop management is designed to help administrators automate, secure, standardize, and audit all the computing devices within their operation.
Benefits of a Desktop Management Software
There are a number of benefits to using dependable remote desktop software. No matter what industry your organization operates in and regardless of the size of your enterprise, desktop software could be a great tool for business growth.
Remote management
Top of the list is desktop management software's capacity to carry out remote administration.
Gone are the days when you have to run to the office just to manage or fix a certain device issue because you now have the ability to monitor and control all devices that are connected to your corporate network.
Using desktop software allows your computers to be accessed by other devices, such as a laptop, smartphone, or tablet.
Especially with today's fast-evolving digital landscape, this is a great advantage for you and your employees as you're now able to access the corporate network no matter where you are and be as much productive even without being physically present at the office.
Real-time troubleshooting
Another advantage of desktop management is its capacity to resolve problems faster and more conveniently.
With this advantage, your IT department has the power to quickly troubleshoot problems and issues that may emerge in your network.
What's more, there would be no more need for your IT administrators to wherever the computer system is located just to patch up any irregularities. This is because technical problems can now be resolved by accessing the corporate network wherever your admins are.
As long as the authorized employees within your enterprise have login credentials, rectifying technical issues can be addressed right away.
Put simply, you're able to save more time and company resources with desktop software.
Remote access to documents and files
Not only can you remotely access files and data saved on your office computer but you can also upload files to the same office computer through desktop management software.
You're not limited to accessing just one computer because as long as your office devices are connected to a single network, file access is possible.
There's also no need to worry about unauthorized access because as a business owner or a company head, you have the power to provide privileges, only to select employees, particularly your IT administrators.
Convenience
One of the biggest advantages of desktop management is convenience.
Since it has the capacity to oversee and implement tasks whenever this tool gives you and your employees ultimate accessibility to executing and completing tasks and responsibilities in your respective jobs.
Even though accessible anytime, anywhere in the world, your documents, data, and files are kept in a well-secured database system, eliminating the risk of security breaches.
Selecting the Right Desktop Management Software
Every business has its own set of requirements. As such, finding the best desktop management software depends on the features you're specifically looking for.
Some factors to take into consideration include:
Whether the solution can support both current and future user environments
Whether immediate support is offered for the needed operating systems, and whether there's equal support for legacy and modern OS
Provides features such as:
Patch management
Software distribution and upgrading
Asset management
User profile management
Remote troubleshooting
OS imaging and deployment
Modern management
Enterprise mobility management
Configurations management
Auditing and reporting
The product's roadmap
Customer reviews
Analyst evaluations
Pricing models
Free trials to test how different products run in their environment
Support quality and if it is separately priced
Available integrations
There are a lot of reasons why desktop management software can help you streamline your business while cutting costs and saving time. Make the most of your software investment by allowing your employees to work and communicate anywhere, anytime, and on any device.
Related Resources: