Key Features of our Remote Desktop Solution
Streamlined Management: With our Remote Desktop solution, you can easily access and control your clients' computers from a centralized dashboard. Perform tasks such as software installations, troubleshooting, and system maintenance remotely, saving time and resources.
Enhanced Security: ITarian's remote desktop employs robust encryption protocols and multi-factor authentication to ensure that your clients' data and systems are protected against unauthorized access. Rest assured that sensitive information remains confidential and secure.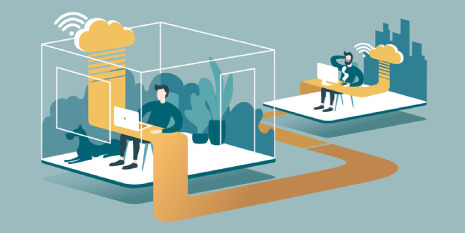 Scalable and Flexible: Our remote desktop is designed to scale with your business. Whether you have a few clients or a large client base, our Remote Desktop service can accommodate your needs. It is compatible with various devices and operating systems, providing flexibility for both you and your clients.
How To Use ITarian's Remote Desktop
Unlock the power of remote access with ITarian's remote desktop solution. Follow these simple steps to start using our robust remote access tool:
Sign up for an Account

If you haven't already, sign up for an account (click here). Provide the required information and complete the registration process. Once your account is created, you can proceed to the next step.

Install the Remote Desktop Client

Download and install the remote desktop client on the computer you want to access remotely. Our client is compatible with all major operating systems, including Windows, MacOS, and Linux. Follow the installation instructions to set up the client on your device.

Launch the Remote Desktop Client

Once the installation is complete, launch the ITarian Remote Desktop client. You will be prompted to log in using your ITarian account credentials.

Add Remote Computers

To connect to a remote computer, click on the "Add Computer" button within the Remote Desktop client. Enter the necessary details, such as the computer's name or IP address, and click "Save." You can repeat this step to add multiple remote computers.

Establish a Remote Connection

With the remote computers added, simply select the desired computer from your list and click the "Connect" button. The ITarian Remote Desktop client will establish a secure connection to the remote computer, granting you fill access to its desktop.

Control and Manage Remotely

Once the connection is established, you can control and manage the remote computer as if you were physically present. Use your mouse and keyword to interact with the remote desktop, open applications, transfer files, troubleshoot issues, and perform any necessary tasks.

End the Remote Session

When you've completed your remote session, click on the "Disconnect" button with the ITarian Remote Desktop client. This will end the connection to the remote computer.