MSP
Managed Services Providers (MSPs) aim to deliver proactive and quality client endpoint management. However, the scarcity of resources can prevent them from doing this. Being responsible for the monitoring of clients' servers, computers, laptops, smartphones, and other devices may be difficult if you have limited resources and staff. With RMM tools, endpoint management becomes effective and easy.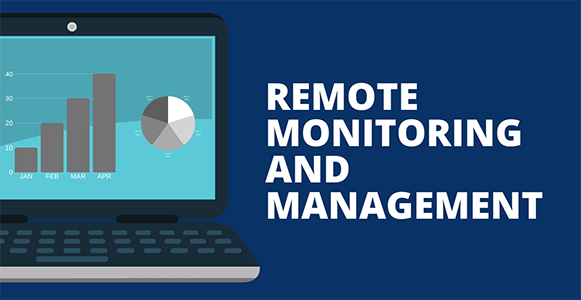 Remote Monitoring and Management
RMM is the abbreviation of Remote Monitoring and Management. This refers to IT tools and software that MSPs use to locate, update, and monitor client endpoints. This automates IT tasks, making it possible for a technician to learn more about a client's device and networks without being physically present in the room where it is located.
Features of RMM Software
Remote Monitoring and Access with a Wide-Range of Compatibility
RMM Software provide remote monitoring and access capabilities, allowing IT professionals to immediately determine and resolve problems as they arise without having to go to the location of the device. Moreover, it enables teams to work in the background as they fix issues, rather than having to work on an entire device system. RMM software is also widely-compatible to most operating systems, devices, and applications.
Patch Management
RMM stands for Remote Monitoring and Management, is also capable of patching or updating all applications. It can also run extensive reports for tracking. Making use of this tool can easily blacklist patches with errors and test all updates before deployment.
Active Device Monitoring
Clients usually have several devices, ranging from servers, PCs, laptops, and mobile devices. RMM software can monitor all of these securely and efficiently.
Can be Integrated with PSA
RMM software can be combined with professional services automation or PSA. When integrated, this allows rapid service delivery, so MSPs can address the client's concerns on time. The combination of Remote Monitoring and PSA can help capture and store information for efficient root cause analysis. It also converts these data into actionable items—and eventually, into quotes and add-on solutions.
Centralized Dashboard
RMM has a dashboard that lets you manage an endpoint device's backup, antivirus, and other service-related elements from a single location. The convenience provided by this control center reduces employee training costs and speeds up service delivery.
The Benefits of RMM for MSPs
Remote monitoring and management tools support the daily operations of MSPs. It helps complete daily tasks and provides analytics and preventive monitoring. Here are the benefits of RMM for managed services providers in detail.
Presents Data and Activity Insight
RMM software gives valuable information about a client's device or infrastructure. It monitors the overall health and capability of networks and devices. When one of the agents detects a problem on a machine, a ticket is created and the technician in the MSP is alerted. These tickets are often categorized based on severity and problem type, helping the MSP prioritize which issues to fix. MSPs are then able to identify and resolve issues before they grow big.
RMM is a highly functional automation tool for SMBs, allowing for the scheduling and automation of simple maintenance tasks, and the best of all, monitors various client endpoints at the same time.
Prevent System Glitch and Improve End-User Satisfaction
With the automation and constant monitoring done by RMM, chances of having a system failure is reduced, as your team receives information quickly and resolves any potential issues in its early stages. While it is only doing remote, in-the-background monitoring and fixing, end-users experience minimal disruption during the servicing process.
Meanwhile, the proactive monitoring and preemptive issue resolution ensures that devices are performing at an optimum level with increased network stability. There are also lesser network interruptions, reducing the need for physical visits to the sites for checkup. This translates to reduced operating costs as well as high customer satisfaction and loyalty.
Minimal Downtime, Maximum Efficiency
Having a network outage or slowdown may affect employee productivity and business processes. This could take a big blow to your company revenue. It may be hard to determine a per-hour dollar value of downtime, but there's no doubt that your productivity and profit goes down every minute of a service interruption. With Remote Monitoring and Management software, you can easily calculate the cost of downtime for your own company, and prevent network outages and slowdowns for both your company and your clients.
Final Thoughts
Time spent identifying and fixing issues and traveling to each customer's place consumes precious business hours. RMM definitely reduces the time it takes to locate and resolve IT issues. This enables MSPs to have more efficient business processes. With RMM, you can remotely solve endpoint problems and automatically gain activity reports. Finally, the energy and time you put out fixing customer problems is measurable, letting you estimate how much money you can save with RMM.