What is service desk?
Technology has become so vital to the business operation and any interruption of IT services can put the organization at risk. The best thing to counter such problem is to have a first-hand Service Desk management.
The service desk is a single point of contact between the customer/user and IT service management. The primary task is to handle requests and incidents and be an interface for IT-related processes. The main function is incident control, service requests, Lifecycle management, correspondence and communication with the customer.
The purpose of the Service Desk is to optimize the process on behalf of the business to oversee IT enable process and functions. The service desk is about making sure the services are delivered in time at that moment, by providing critical information utilizing best practices.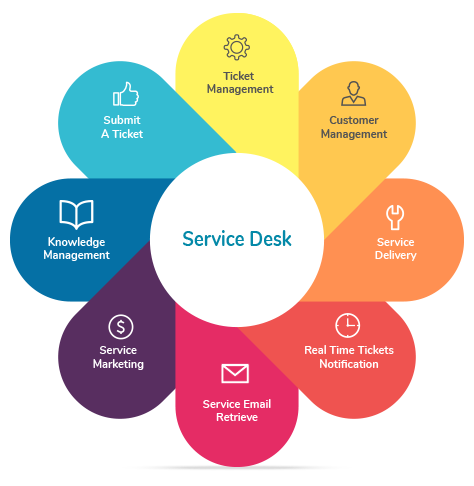 Service Desk — Benefits
Single Point of Contact

A centralized location to deal with all technical issues. The client will sure whom to call when they face any issue. They can dial the concerned service desk and talk to somebody who is trained to handle complex problems.

Ticket generation

Service Desk optimizes the process by issuing a ticket number in the order they receive the queries. This gives them an idea to fix the deadline during which the issue will be resolved, everybody will be on the same page in the organization.

Systematic approach

There will be a systematic approach starting with the most common solution, and move on from there. This will help them to solve the issue better than trying out different things at random to see if they work.

Performance analytics

You have a better tool to judge the performance accurately, and the organization can conclude which IT process or staff took too long to solve an issue. There can be a clarity on the operational and predictable cost model. Ensure consistent call handling, and eliminate overstaffing.
Design
Most help desks are designed to handle requests for services and incidents. An incident is meant to be an event that causes disruption in availability or quality. It could be that someone's computer won't start, or the website is down. A services request can include routine tasks, such as changing passwords or setting up new users. We can help with all that, as well as release management, configuration tasks and change management.
Other Choices
While this is the primary option for many, help desks and call centers are also available. Most people don't understand the difference between a help and service desk, but the definition can certainly help. In the second version of ITIL, there was no difference, but in the ITILv.3, it claims that ServiceDesks now offer a bigger range of services, solve more problems and integrate business processes into the infrastructure. The definition of help desks says that if help is needed throughout the company or organization, someone will be available to help.
Our product can help with all three because instead of a call center, they'll be able to use the service desk for help. Contact us to learn more.
Related Resources: