What is a Service Desk?
Service Desk is a ticket management system that allows enterprises to implement strong and effective workflows for internal and customer-facing support departments.
The Support Ticketing Management System (also called Service Desk or Help Desk Ticketing System or Remote Help Desk Support System), enables MSPs (though administrators and help desk staff) to keep track of tickets raised by users, attend to them, reassign them to appropriate department or organizations, and generate reports and more.
ITarian is a fully-featured cloud-based ticket management system that is a part of ITarian - a complete, scalable central IT management platform that includes Remote Monitoring and Management (RMM), Service Desk, Patch Management, Mobile/Endpoint security management, and other essential IT management tools for MSPs in a single, easily navigated console.
The ITarian Help Desk Ticketing System provides enterprises with a single point of contact for meeting the communication needs of all departments- internal as well as customer-facing. A company, its customers, employees, and business partners all would converge at the Help Desk and a strong and effective workflow would thus be maintained.
MSPs will be able to gain real-time visibility as issues develop and generate detailed reports based on a project timeline, assets, costs, ticket type, and staffing. Further, MSPs will be able to easily define service level agreements and configure ticket due dates, warnings, and billing to match. It also allows the administrators to set up auto-responder, knowledge base articles, and automatically assign tickets to departments/staff based on specific criteria
TYPES OF SERVICE DESKS
1. Local Desk: Located within or near an enterprise's premises, it caters to the requirements of a small or medium-scale enterprise. It would help address the requirements of country-wise or location-wise entities of an enterprise. However, this service desk would not be enough to handle large volumes of calls or service requests.
2. Centralized Desk: A more cost-effective and efficient solution for ticket management, the centralized desk helps manage larger volumes of tickets/calls with fewer staff members. An enterprise that maintains local service desks will benefit by merging them into a centralized desk.
3. Virtual Desk: This is the most commonly used type of service desk among enterprises, corporate, and IT companies. Through the Internet, a single, centralized Service Desk takes care of all tickets raised from all types of devices and entities in different geographical locations. The tickets can also be addressed and managed by personnel in various geographical locations.
4. Follow the Sun Service: Some enterprises combine Service Desks located at multiple geographical locations to provide round-the-clock service.
WHY DO YOU NEED SERVICE DESK SOFTWARE?
Do you keep track of your customer requests with sticky notes, and email - or have you upgraded to using spreadsheets? Well, none of these is an ideal solution for keeping track of all those many requests that your customers would keep on generating
You need to easily track what the issue is, who it came from, what kind of SLA is in place to resolve it, and such things. The ITarian Software Management module, integrated into the ITarian MSP, provides you with an easy and efficient way to manage and respond to customer requests. It allows your customers to help themselves; it offers them a place to log their issues and track their progress without having to email, call or text you. On the centralized dashboard you can easily view the status of each ticket, whether it's open, closed, overdue, and even specify and view the different priority levels.
ITarian provides you and your customers a clear insight, with clear statistics and reporting. There is also an integrated knowledge base providing your customers with instant answers to common questions, giving them the ability to help themselves, reducing the demand on your IT staff.
With ITarian MSP completely integrating IT Service Desk with all of its modules, tickets can be created for actions needed from other modules and the actions taken, without having to leave ITarian, providing your staff with a single complete IT management system.
Key Benefits & Capabilities of IT Service Desks
Anytime, anywhere access: The cloud-based solution lets you collect tickets from a variety of sources—including phone, web portal, email, or automatically from endpoint monitors—and even lets you access account tickets from a mobile app.
Effective communications: Ensure that customers get the information they need throughout the resolution process with customized greetings, automated emails and updates, and scripted responses.
Efficient workflows: Prioritize, handle, and escalate (when necessary) requests effectively with configurable ticket categories, automatic ticket routing, SLA tracking, and escalation procedures.
Visibility and reporting: Online, easy-to-use dashboards and comprehensive tracking and reporting give you a view into service requests.
Shared expertise: An integrated knowledge base helps your team avoid "reinventing the wheel" by documenting known issues and their resolutions.
User experience: Branded customer portal builds consistency and confidence in the support process.
Service Desk vs Help Desk. ITSM: What's the Difference?
A help desk focuses on break-fix, while a service desk helps in assisting with break-fix and also with service requests and requests for information. A help desk originated from IT-centricity, whereas, an IT service desk was born of IT service-centricity.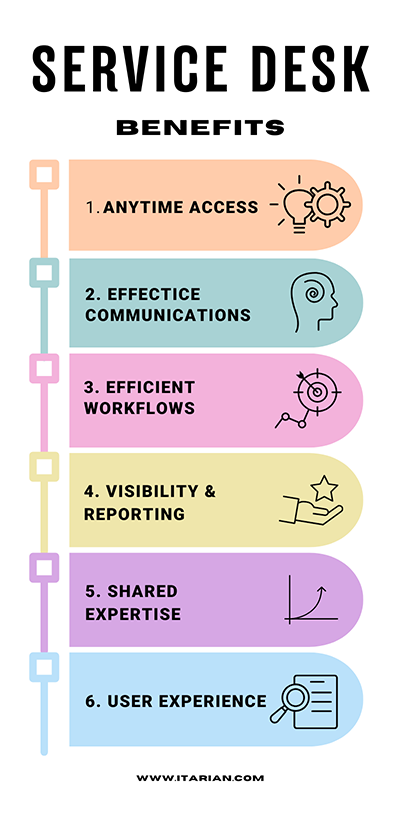 Some still feel that a help desk provides help, while a service desk provides service, meaning that with a service desk there is a focus on delivering a service to end-users with some resemblance to customer service. A help desk is considered to be an add-on to existing IT events, while the service desk is part of a service-based IT service delivery and IT support ecosystem developed around something called "the service lifecycle." This is could be the reason why the term service desk was used over the help desk in ITIL.
Those knowledgeable in ITIL will indicate that a help desk is tactical, while a service desk is strategic. This will indeed change across organizations. It is also possible to consider a help desk as one that offers a subset of service desk capabilities.
Hence, a "service desk" is a help desk developed in an ITIL mold, and help desks are frequently regarded to be old-fashioned compared to the more modern service desk. Narrowing down on this decision could be an outcome of ITIL-based marketing of ITSM tools, several other service-based ITSM offerings, or the very fact that the term "help desk" is just not present in ITIL publications.
To sum up, the difference between a help desk and a service desk is very much in the eye of the beholder. Despite the number of differences, an organization will eventually call their help desk or service desk whatever they want. It does not matter what you call your IT support capability, but it is vital to understand what a modern service desk or help desk should provide whichever name you decide on.
Difference between Service Desk and ITSM
ITSM refers to all the activities dealing with the designing, producing, delivering, supporting, and managing the lifecycle of IT services. Even though the most common perception of ITSM among IT users is just "IT support", ITSM goes much beyond resolving day-to-day issues. The IT team should take care of the end-to-end management of these services. It also has a much greater scope than ITSSM, which is, in turn, larger than a service desk tool.
ITSM covers a wide range of IT management capabilities linked to IT service delivery and support. A service desk is a subset of ITSSM (and thus ITSM) and typically includes:
Self-service
Incident management
Service request management
Knowledge management
Reporting capabilities
Strong links to problem and change management
Key Qualities of the Help Desk, Service Desk, and ITSM
Help Desk
Managing the knowledge base
Problem resolution and escalation procedures
Adhering to Service Level Agreements (SLAs)
Self-Service options for end-users
Behave as a single point of contact (SPOC) for IT Support
Employ a tracking solution for all incoming incidents
Automated ticket tracking, email notifications, and routing
Basic Incident Management and Problem Management
Offers limited integrations with other IT Service Management Processes
Some applications/areas supported by specialty groups outside the help desk
Service Desk
Service/Self-Service Catalog
Integrate with CMDB, Asset Management, and Asset Discovery
Complete incorporation with other IT Service Management processes
Function as a Single Point of Contact for all IT applications/areas/business processes
Enable the organization to be compliant with Service Level Management agreements
ITSM
Reduce IT costs
Improve customer satisfaction
Increase competitive advantage
enhance flexibility
Increase agility for new IT services
Enhance the quality of service
Improve governance and reduce risk
How IT Ticketing System Works?
IT ticketing system's main purpose is to enable people visiting a website to report their issues. It could be anything from site navigation, to products, or services, and it could also be used by employees, customers, clients, or business partners. The user simply clicks a button to access the site's help desk and creates a ticket. The ticket system is the best option to deal with customer questions or reported issues.
A Service Desk is a centralized point of contact for users to request assistance, report issues, or seek information related to IT services or products. Its primary role is to ensure that these requests are efficiently logged, prioritized, and resolved, helping to maintain smooth IT operations and excellent customer support.
While the terms are sometimes used interchangeably, there is a distinction. A Help Desk typically focuses on resolving technical issues and providing immediate solutions. In contrast, a Service Desk offers a broader range of services, including incident management, service requests, problem resolution, and knowledge management. It often acts as a more comprehensive support hub.
An effective Service Desk solution should include features such as incident and request tracking, knowledge management, automation of repetitive tasks, self-service portals for users, reporting and analytics, and integration with other IT management tools. These features enable efficient issue resolution and improved customer service.
Service Desk solutions are not limited to IT support. They can be adapted for use in various departments, such as HR, facilities management, and customer service. By providing a centralized platform for handling requests and issues, Service Desks help streamline processes, improve communication, and enhance overall organizational efficiency.
The choice between a cloud-based and on-premises Service Desk solution depends on your organization's specific needs and preferences. Cloud-based solutions offer scalability, flexibility, and easier maintenance, making them suitable for many organizations. On-premises solutions may be preferred when strict security or compliance requirements necessitate greater control over data and infrastructure.
Service Desks play a pivotal role in improving customer satisfaction by ensuring prompt and effective issue resolution. They provide a consistent and efficient means for users to report problems, seek assistance, and access knowledge resources. Service Desk metrics and reporting also help organizations identify areas for improvement and measure their service quality.
Related Resources: