Remote Monitoring and Management solutions enable you to connect to your client's device remotely. Once you gain access, you can see the screen of the device and take control of it. Remote access software aims to help IT technicians conduct support without going to the physical location of the machine. It also has features such as file transferring, update management, activity logs, and many more.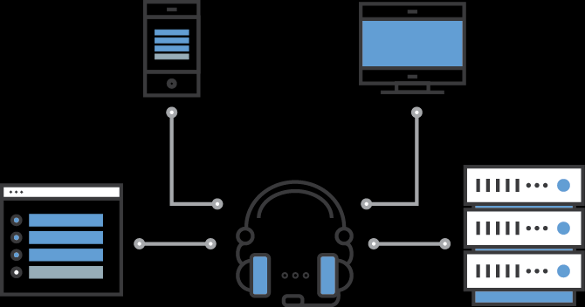 Many MSPs are now using RMM tools to provide support remotely instead of doing it in person. If you're still doing the latter, you are falling behind your competitors. Providing remote support is now becoming a common practice as it saves MSPs from travel cost without affecting their work quality. It also eliminates the time it takes to troubleshoot an issue.
As an Managed IT Provider, you should find a remote monitoring and management tool that has the features you need and performs at the level you expect at an affordable cost. Splashtop for RMM is a solution that you can download.
Why you Should Download Splashtop for RMM
Great Performance
Splashtop provides real-time connection to your client's IT infrastructure.
Easy Remote Support.
Splashtop has the ability to check and support the customer's IT environment as soon as they receive a request. It enables users to access and support client's devices even without the presence of an end-user.
Hassle-free Deployment.
The software is easily deployable in all the devices you want to support. Once installed, MSPs can access the device whenever they want.
Affordable.
Other remote support tools tend to be expensive, while some increase prices every year. With Splashtop, you get the best price without the worry of price hikes.
Useful Tools.
You can remotely access your customers' computers or devices. Once connected, you can transfer files, print remotely, and chat. You can also organize all users and computers into groups and manage each access permission.
Premium Features.
Splashtop's Premium version provides additional tools and features for MSPs, including modifiable alerts, Windows patches, event logs, remote command, system inventory, etc. You can also allow end-user access for up to 50 clients so they can remotely access their own devices that are covered in your account.
Splashtop technology is responsible for the remote control function of some RMM tools. If you have one of these RMM software, you can leverage additional Splashtop solutions to provide end-users remote access to their own computers, as well as on-demand, ad-hoc remote support to devices not managed under your RMM. Here are some RMM tools that can be integrated with Splashtop:
Datto RMM
Datto RMM utilizes Splashtop's high-performance technology to activate its remote control function. It smoothly deploys Splashtop, enabling remote control sessions directly from its console.
Adding Splashtop SOS to Datto RMM will allow you to remotely access and support unmanaged computers and devices. There are free trials available for this software.
Atera
Splashtop offers built-in, seamless integration to Splashtop. With only a single click, you can access customer's computers and servers anywhere in the world. All the Splashtop features users know and love are all available in the Atera Platform.
Ninja
Adding Splashtop on Ninja RMM will allow MSPs to easily deploy Splashtop agents and launch remote sessions directly from a single console. Additionally, MSPs lets end-users access remotely through Splashtop Business Access.
Final Thoughts
Remote Monitoring and Management (RMM) software is perhaps the most essential tool for MSPs like you. RMMs can proactively track your IT environment's health status as well as the devices you support. RMMs also safeguard networks and devices, automate tasks, create activity reports, and automate alerts and tickets.
There are various RMM solutions available in the market today, and most, if not all have a wide array of features. In fact, several RMM solutions collaborate with Splashtop to provide remote support. This includes Datto, Atera, and Ninja. Splashtop for RMM download can easily be done online.