Break/Fix services play vital roles in the IT industry. Unlike managed IT services, break/fix IT services only interact with a business when a problem occurs.
But before we dive into our topic, it is important to understand first the nature of break/fix services.
Break/fix providers send their IT experts to their client's location to analyze and solve issues, providing them with on-premise solutions. And as it does not carry contracts or subscriptions with ongoing fees, an organization is charged for the services rendered during their appointment.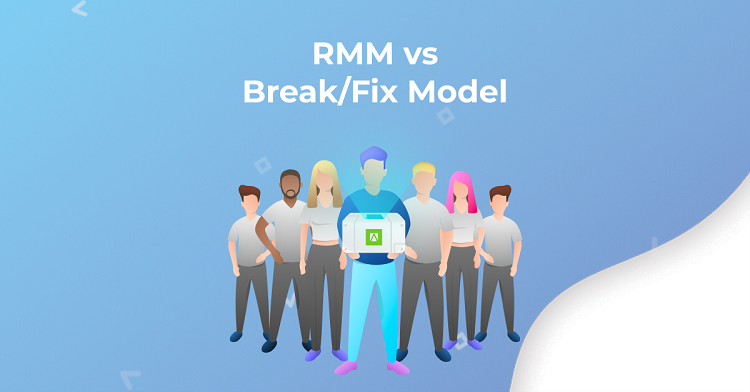 IT experts — working to solve break/fix problems — charge by the hour, while they may also charge for initial or post-servicing consultation, as well as for their specialty tools and parts needed to fix software or hardware.
An organization needs break/fix services when they must upgrade or install hardware, install peripheral equipment, repair their networks, initiate new privacy, or defense software, and have general IT contractor training or education services.
How can a remote monitoring & management rmm tool solve break/fix problems?
A remote monitoring & management rmm solution can be of big help to solving break/fix issues. Also known as network management, RMM is a tool designed to enable IT experts to monitor client endpoints, networks, and computers remotely and proactively. This allows them to fix problems, get insight into clients' network, provide the ability to keep devices up-to-date, and stay ahead of issues — without being physically present in their client's location.
Through these features, a remote monitoring & management rmm tool gives IT service vendors the ability to manage more clients than conventional break/fix IT providers. In fact, with remote monitoring & management rmm, technicians can remotely and efficiently administer patches, install there software and updates more through a single, unified dashboard
This puts your business ahead of other conventional break/fix IT service providers.
So, if you are still providing services on a break/fix basis, a remote monitoring & management rmm tool can help you leverage your services.
Aren't sure yet how RMM solves break/fix problems? We have got you covered!
It can solve, detect, and prevent complex IT issues
In a break/fix model, you won't usually hear about an IT issue until your client notices it. This means that the problem has already become widespread and complicated, making it harder to resolve. However, through remote monitoring & management rmm software, you can detect IT issues even before your client notices it. This enables you to fix break/fix problems proactively, preventing IT issues becoming more complex and widespread.
Cost-efficient tool to help technicians save more time
A remote monitoring & management rmm can help your team prevent spending a huge amount of time for just a single IT issue. Going to client sites can eat up a break/fix IT expert's day and resources, while it also takes additional time to analyze a client's devices and gather basic information about the infrastructure and its issues. Hence, it can be an obstacle to your company's growth, as it reduces your team's productivity.
However, with remote monitoring & management rmm, your team can easily gather information. Solving problems will be automated, as well, allowing your business to reduce costs and eliminate wasted time.
Helps your team to handle tasks more efficiently
Break/fix models can make your experts constantly busy as they solve one client issue after another. If they are overworked, your team might miss incoming work or might lose their efficiency on their tasks. This can be avoided with RMM.
Through an RMM tool, you can automate tasks and ease up the strain on your team, helping them to handle and fix client issues more efficiently and quickly.
It gears your business with an up-to-date system
Outdated systems are one of the biggest obstacles in resolving break/fix problems. If a client encounters problems with outdated software or devices, they may go after upgraded services and tools rather than acquiring the IT services you provide. You don't want this to happen, as it will cost your business a lot.
However, you can avoid this with RMM, as it keeps your client's system up to date, complemented with latest tools and software.
Helps your team become proactive
As we all know, break/fix IT services are built around reactive responses. This might be a total turn off for your clients, as they want a proactive approach.
But thanks to RMM, you can solve break/fix issues proactively. Through this tool, your team can remotely detect problems and offer long-term solutions to your clients for sustainability.
Break/fix IT models are now considered out-to-date, as Managed IT services increase its popularity. However, through a well-designed RMM tool that can match your services and business model, you can deliver a great solution to your clients.
RMM also empowers you to elevate your services, as it provides your business with updated features that can battle out competitions.