Business technology needs are many. A business must ensure that they first meet the internal technology needs. This ensures that its staff is effective in helping the business meet its customer's needs.
To meet this need, the IT department may have to ITSM ITIL frameworks of technology management.
Internal technology needs include ensuring that every person who works in the business has the best technology devices and software to carry out their work. It also means that problems that arise are solved systematically, not just for the individual, but for the whole organization.
It is in the management of the IT department operations that the organization will choose to use ITSM vs ITIL frameworks.
What Is ITSM?
ITSM means IT Service Management. It involves managing IT operations as a service. This means that an organization can implement, organize, and deliver IT services to their internal customer in the best and highest quality method.
ITSM is an IT department operations software that makes it easier for the IT department in an organization to identify and solve technical problems within the business.
These problems include; making sure that every person has the right technical tools for their work. Solving IT problems quickly and effectively. Assessing how current technical solutions are used and anticipating future needs and creating solutions for them.
Here are some of the benefits of implementing ITSM in the management of IT in your business.
It becomes easy to identify and solve technical problems in the business
It helps to boost productivity. With the right tools at hand, employees are more productive.
Proper operations management helps lower the cost of the provision of services. Budgets are easy to make and manage and you can anticipate problems and work solutions before they arise, hence reducing the risk of lost time and money. Thus enhancing an organization's efficiency.
Helps identify and allocate roles and responsibilities in the IT department.
Helps to improve customer satisfaction with an increase in the speed of service as all the required tools are available.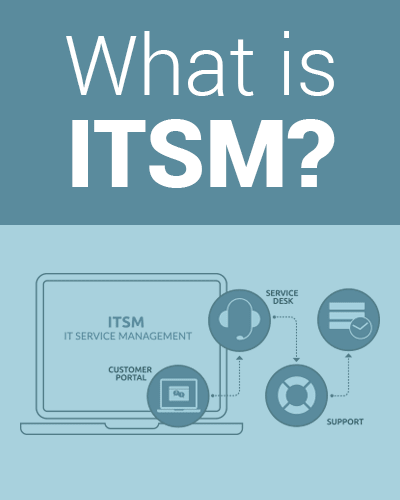 What Is ITIL?
ITIL means Information Technology Infrastructure Library.
It is a set of guidelines that IT departments follow to help them manage IT services. The guidelines provide standardized instructions on how to provide the best IT services possible.
ITIL guidelines can be customized to fit the business that needs to use them. Like everything else in IT, ITIL is ever-evolving with new updates every few years to better meet the current needs.
ITIL helps organizations to organize their IT services effectively. ITIL ensures that businesses can set proper IT service goals and move gradually towards their achievement. It ensures that the many processes in IT management are brought together to ensure that the IT department doesn't block the organization from achieving its goals.
Some of the main processes of IT management in ITIL include incident management which allows IT departments to restore any interruptions in service provision fast. ITIL also prepares companies and IT departments for changes in software or infrastructure. This helps organizations to plan thus lowering the costs of technology acquisition.
ITIL ensures that common problems are identified, recorded, and solved. It also makes it easy for new knowledge to be gained and shared within the organization.
Benefits of ITIL include:
Helps businesses to record how they manage their IT. This helps to then audit and improve IT management.
Helps eliminate IT errors.
Helps the organization to plan and forecast for future IT needs.
Allows IT to help the business meet its customer needs.
Relationship Between IT Service Management and IT Infrastructure Library
IT Service Management (ITSM) relies on ITIL guidelines to be effective.
There are different types and providers of ITSM platforms, all of them rely on ITIL and other IT management guidelines that ensure proper IT service management - Provide strong tags for the benefit of the organization.
Difference Between IT Infrastructure Library And IT Service Management
The main difference between ITSM and ITIL is that ITIL provides guidelines while ITSM is the implementation of those guidelines. ITSM can be implemented differently in different organizations.
Another major difference is that ITSM is focused on the entire business while ITIL is only focused on providing instructions to the IT department. Through ITSM, businesses use IT to meet theirs and their customers' needs. While ITIL helps the IT department bring ITSM to life.
Conclusion
ITSM and ITIL are dependent on each other. Without ITIL, ITSM would be disjointed and would only be reactive to IT problems arising in an organization. Therefore, ITSM platforms based on ITIL are integral to the achievement of organizational goals.