IT Service Management Service Desk
IT service providers manage ITSM via a mix of people, processes, and information technology. We have witnessed how IT has transformed within organizations over the past years. For instance, in the 1970s – 1980s, IT proved to play a significant role in how humans would do business for years to come.
Telephones, computers, networks, and printers, as well as the peripheral devices that control them, including the software that makes them function, would become the role of IT departments all over. IT departments were to be necessary for the blooming days of IT, including the associated expense instead of the value driver within a business.
The Advantages of ITSM Processes
Irrespective of the organization's size, every business includes IT service management in one way or another. ITSM makes sure that service requests, incidents, changes, problems, and IT assets plus other aspects of IT services are managed in a very streamlined process.
IT teams in businesses employ specific workflows and other ITSM practices as outlined in the ITIL. Some of the benefits of ITSM include:
Higher returns on IT investments
Ability to establish repeatable, well-defined, and manageable IT processes
Lower costs of IT operations
Minimal service outages
Risk-free implementation of IT changes.
Well-defined responsibilities and roles
Improved efficiency of IT helps desk teams.
Better transparency into IT services and processes
Clear expectations on service availability and service levels
Proper analysis of IT issues to help reduce repeat incidents.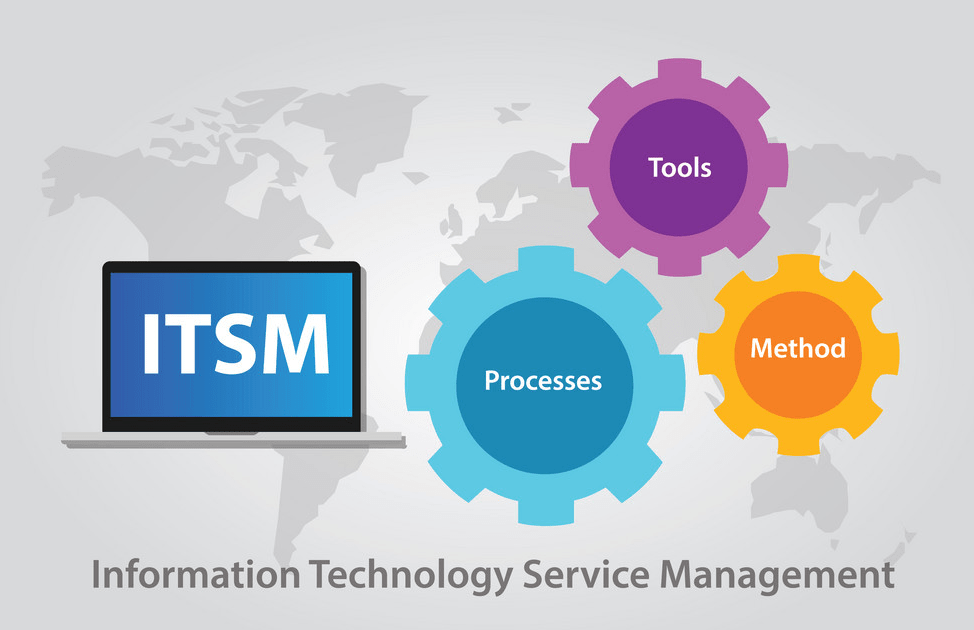 ITSM Delivers Information Technology as a Service
The definition of service in ITSM includes virtually everything the IT organization is responsible for, like hardware such as monitors, computers, and printers, office applications, Incident Management and Change Management, additional software installation and licensing agreements, all part of services offered by IT organizations.
Delivering IT as a service has an immense implication on how IT businesses are viewed by their organizations. Hence, IT departments are perceived as helpers when they provide adequate support services for organizations to address issues and improve their efficiency proactively.
Hence, IT professionals play a considerable role in testing, designing, and deploying services aligned with the organization's strategic objectives.
What ITSM Professionals Achieve
Even though the goal of ITSM is to build effectively, design, manage and deliver IT services for a business, the underlying reason for service management is essential to align ITSM's goals with those of the company in order to promote a working relationship between IT users and the department. Some of the ITSM practices that help achieve this include:
ITSM professionals track specific metrics to successfully assess the IT organization's performance and set targets for continuous future improvement
ITSM professions make sure IT goals are well-aligned with the business's goals by engaging in strategy generation.
ITSM professionals can sometimes follow a formal Change Management procedure to help make sure that the changes are responsibly conducted without affecting the availability of critical services because they understand the need to minimize business interruptions.
ITSM professionals may implement Incident Management, a ticketing system, or request system, or a complete service desk solution to help facilitate two-way communication between users and IT because they understand the advantage of a streamlined communication between the IT organization and business customers.
ITSM professionals ensure the business's availability and capacity requirements are met because they understand the need to plan and design services effectively.
ITSM professionals also create knowledge base articles, as well as identify and automate time-consuming tasks meant to help users engage in efficient self-services and reduce tickets because they understand the importance of efficiency provided by automation and self-service.
Therefore, ITSM occurs when the IT department focuses on the relationship with the organization, aligns activities with what the organization wants and tries to drive efficiency, and create continuous improvement in all the activities. Hence, this approach focuses on increasing the efficiency of technology, people, and processes to make the organization function best.
In Conclusion
The scope of ITSM service desk positions is an essential element in the technology strategy of organizations. This is because the central point of contact for IT is used throughout business, service desks, and used by enterprises interacting with technology as a part of the operational processes.