However, with paid or free desktop management tools, administrators can automate, simplify, secure, and audit all devices within the company. Desktop management involves monitoring and securing of devices and computer systems used within an organization. IT administrators can look after their hardware and software inventory, configurations, security, patches, and software licenses using this tool.
How to Choose a Desktop Management Software
The following tips can help you determine which desktop management software will be a valuable investment for your enterprise.
Usability
Not all users of this software are technology experts. As such, it's essential that your tool is easy to use and has an intuitive interface. The paid or free desktop tool should be able to provide a quick connection and simple installation so IT team members can carry out their tasks quickly and effectively.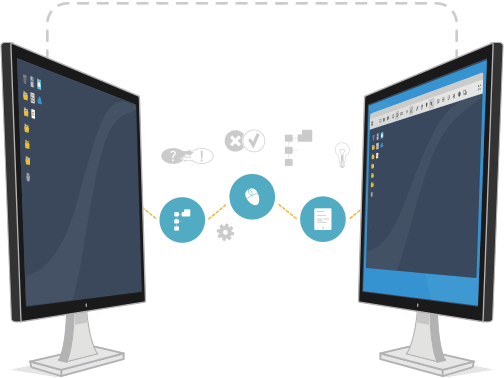 Functionalities
Paid and free desktop tools offer a wide range of high-tech features that may divert your attention from getting what you really need. To make the right decision, you must focus on the most vital functionalities of a desktop management software such as:
compatibility with different operating systems
patch management
asset management
software distribution
auditing and reporting
access to multiple devices in one session
automatic registration of frequently used sessions
configuration of parameters to change how devices are controlled
file transfer speed
remote file management
Security
Choose a solution that provides robust security on the devices you monitor. Ensure that the paid or free desktop management tool has an outstanding background in terms of security. Check what successful companies have relied on this vendor and ask the measures they put in place to prevent their customer's data from getting compromised. Also, look for other users' reviews and gather enough information to guarantee that the tool will meet your security requirements.
Support
You might probably need the support of the vendor while using their software product. For instance, you may find yourself in a situation wherein you need to reconfigure the software and adapt it to your needs. When this happens, it is important that there's comprehensive and quality support you can count on.
Choose a provider that can give you support whenever you need it. If the provider is known to respond quickly and resolve requests efficiently, you may opt to sign up with them.
Recommended Options
In order for you to achieve your high level goals, here are two free desktop management tools that can give you insights regarding the health of your network.
SolarWinds RMM
SolarWinds RMM can oversee desktops and helps your central IT department to handle hardware and software within your organization. It is a cloud-based service that can monitor and manage computers running Windows, Linux, and macOS.
This solution has a device discovery feature that creates an asset inventory and updates it automatically when devices are added or removed. It also keeps an eye on the lifecycle status of your IT equipment.
When problems are detected, the IT department is notified so they can instruct technicians to take action and troubleshoot issues before they grow big. It can also automate tasks like software installation and patch management for individuals or groups of computers.
ITarian
ITarian is another desktop management software that you can trust. This remote monitoring and management system is able to track local and remote devices wherever they are. It can recognize computers running Windows and macOS as well as servers and laptops. Moreover, it regularly checks the status of your equipment, sending alerts to staff if an item is acting poorly, so someone can intervene and fix the issue.
ITarian desktop management automates the process of creating hardware and software inventories. Activities such as system maintenance and patch management can be performed immediately, on a schedule, or through event-triggered scripts.
It also has the ability to implement access and usage policies which is geared towards data protection compliance. Reports that are created via this software can assist in goal tracking, compliance reporting, and team performance monitoring.
Final Thoughts
Desktop management tools can help control the chaos in your organization. It monitors the desktop and mobile device lifecycle from start to finish, trimming down infrastructure costs while achieving operational efficiency.