What is an admin monitoring software?
There are two major categories of admin monitoring software:
Agentless platform
Agent-based system
An agentless platform is installed on-premises, such as on a server or workstation that is physically attached to your network. This approach can automatically discover and categorize the devices on your network with minimal to low effort on your part.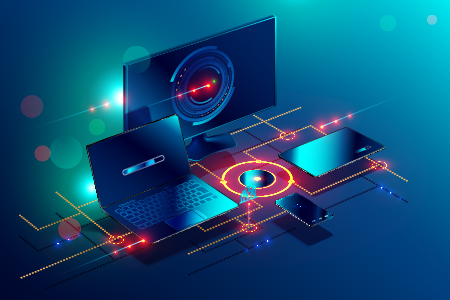 An agent-based system, meanwhile, delivers a large part of the solution through the internet. That said, you can get more in-depth data since the agents will generally have a greater level of hardware access.
To keep your system fit for purpose, your admin monitoring software should be able to cover the following:
Acceptable delivery speeds
Constant availability
Preventative maintenance
Software version monitoring and patching
Intrusion detection
Data integrity
Security monitoring
Attack mitigation
Virus prevention and detection
The problem is, with such a wide range of admin monitoring software and tools, choosing the right one for your business and budget can be challenging. We hope this list can help.
SolarWinds Network Performance Monitor
SolarWinds Network Performance Monitor is designed to automatically discover network devices connected to your network. It's a comprehensive admin monitoring software with a diverse feature set.
Key features:
SNMP monitoring
Automatically uncovers connected network devices
Network packet analysis
Intelligent network maps with NetPath
Create Wifi heat maps
Alerts system
Reports system
SolarWinds Network Performance Monitor's price starts at $2,995. You can also try their 30-day trial for free.
Datadog Network Performance Monitoring
Datadog Network Performance Monitoring is available via a cloud-based SaaS infrastructure, which means you don't have to worry about maintaining a server to run the system. This admin monitoring software is able to monitor networks anywhere, as long as you can install an agent program somewhere on the monitored network.
Key features:
Scalable, cloud-based service ideal for all network sizes and topologies
SNMP-based monitoring with an auto discovery feature
AI-based machine learning which delivers capacity predictions
The Datadog system offers a 14-day free trial and is charged for by subscription, making it a great choice for startups and small businesses.
ManageEngine OpManager
ManageEngine OpManager is an admin monitoring software that can monitor the performance of network devices, routers, switches, servers, and virtual machines in real-time. It has an alert system that can help you respond to performance changes as soon as possible.
Key features:
Automatic discovery
Network mapping
SNMP monitoring
Email and SMS alerts
Customizable dashboards
If you're after a simple infrastructure monitoring tool, Manageengine OpManager is definitely a great choice.
Site24x7 Network Monitoring
Site24x7 is a cloud-based admin monitoring software that covers IT infrastructure, applications, and user behavior. It can automatically discover all devices attached to the network and compile an equipment inventory based on the results, then automatically draw up network topology maps.
Key features:
All-in-one solution with automatic network discovery
Real-time application and network device monitor
Powerful reporting, analytics, and alerts
Site24x7 has a free version but is limited to monitoring five websites or servers. There are four paid editions, however, which are tailored to different corporate needs. Each of the paid versions is available on a 30-day free trial.
Paessler PRTG Network Monitor
PRTG Network Monitor from Paessler is a free admin monitoring software that uses SNMP, packet sniffing, as well as WMI to monitor your network.
Key features:
SNMP monitoring
Bandwidth monitoring
Scan for network devices by IP segment
Custom dashboards
Threshold-based alerts system
Reports system
Customizable network maps
PRTG Network Monitor is a great option for enterprises looking for cost-effective but comprehensive network monitoring tools. It is available for free for less than 100 sensors, after which you have to pay. Its paid versions start at $1,600 for 500 sensors and 1 server installation. Download the 30-day free trial.
ITarian
ITarian is an admin monitoring software that enables IT experts and admins to track data availability and network performance. It gives insights to users so they can enhance their productivity, grow the business, and create great strategies for technology deployment. It includes an auto discovery module and automatically updates the network inventory should any devices get added, moved, or removed.
Key features:
Status alerts
Network discovery
Automated network mapping
Diagnostic tools
Final Thoughts
There is no one-size-fits-all solution when it comes to network monitoring. The most important thing to take into consideration is your business requirements so look for an admin monitoring software that can meet your business needs.
IT Management Software Open Source