What Is Patch Management and Why Do You Need It?
It is the process of managing and deploying patches across the network. A patch contains code that fixes software bugs and vulnerabilities. It can also contain code that upgrades an application.
It helps in fixing security holes or weaknesses in software. This is necessary so an attacker will not be able to exploit these vulnerabilities. Imagine the consequences if an attacker founds out a weakness in one of your programs. One thing they could do is sell that information on the dark web.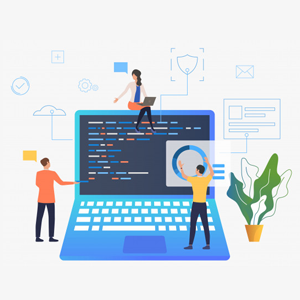 It is the process of deploying patches over a network to keep computers up to date. Updating software is important, as it gives protection against various threats. You might already be familiar with Windows updates, which contain security patches.
In the next section, you will learn how to choose the best patch management software for your business's needs, as well as patch management best practices and patch management benefits.
The Features to Look For
How can you tell if a certain patch management software is the right one for your business? This depends on the requirements or demands of your organization. Here are a few of the most common features to look for:
Feature #1: Cross Platform

A patch management software must deploy patches for various operating systems. It should serve patches to Linux, Mac, and Windows machines. Hence, it should be cross-platform.

Feature #2: Endpoint Support

A patch management software should support endpoint devices like smartphones, laptops, and tablets. People like to bring their own devices for work. These should stay up to date as well.

Feature #3: Automation

Your patch management software should automate the different stages of the patching process. It should scan your programs for missing patches. It should also automate the downloading of missing vendor-supplied patches. It should ensure automatic patch deployment without any manual interruptions.

Feature #4: Reporting

Your patch management software should provide status reports on the latest patch updates. You should get a notification whenever there's a new patch update.
Best Practices
There are a few things to consider when deploying patches across a network. These are important because they affect your entire network. Here are a few practices in patch management:
Best Practices #1: Understand the Importance of Patch Management

It is critical to know the importance of patch management in the field of cybersecurity. A great and wise philosopher once said, "Knowledge is virtue and ignorance is vice." Responding to the latest patch updates provides protection from most threats.

Best Practices #2: Don't Delay Patches

Delaying a patch could lead to more data breaches and exploits. This would also result in loss of customer trust, which is not a good sign. It is necessary to deploy patches on time.

Best Practices #3: Avail the Services of MSPs

Managed service providers also offer patch management and take full control of the patching process. Your business can then focus on management and income generation matters.

Best Practices #4: Do Patch Testing

Some patches will not work because of incompatibility issues. Operating systems and applications have their own requirements to run. Incompatibility issues can lead to system crashes and application errors. It is advisable to test patches before deploying them over the network and its endpoint.
The Benefits
Here are a few of the amazing benefits you get from using a patch management software:
Benefits
Description
Comprehensive Patch Sourcing
A patch management software gathers patch intelligence from different sources. These include the following:

Microsoft Security Bulletin.
Software Vendors.
Common Vulnerabilities and Exposures (CVE).
Automated Crawler Systems.

Automated System Discovery
A patch management software gives a real-time view of your network. It automates the discovery of endpoints and identifies missing and installed security patches.
Prioritization and Scheduling
The priority of deploying patches depends on the vendor, severity, and type. A patch management software automates the scheduling of critical updates. It also alerts you when to get and issue patches.
Effective Deployment
A patch management software installs patches by time, computer, and group. It can also schedule and trigger patch deployment through events.
Change Management

A patch management software tracks and reports the following:

Endpoint patch policies.
Network status changes.
Applied and missing patches.
Failed deployment attempts.

Review and Evaluation
A patch management software tracks and patches all programs across the network. This provides visibility into global patch inventory. It also utilizes advanced network status and health reports.
Compliance
A patch management software is configurable to the schedule you set. This maintains consistency and compliance for the entire organization.
Testing
Patch management software can conduct an extensive and deep type of testing. You can also run and test patches one by one or by bulk.
Conclusion
Now you know what is patch management and how to choose the right software for your business's needs. You also learned patch management best practices and patch management benefits. For more information on what is patch management, please click here.
Remote Access Monitoring Software