IT professionals created the service desks to ensure that companies have access to the support they need whether it's answering technical queries or resolving break/fix issues. Through the utilization of the Information Technology Infrastructure Library (ITIL), Service Desks can function smoothly and serve enterprises and IT administrators.
What is the Service Desk
By definition, a service desk is the first point of contact where end users and IT service management meet. Service desk processes incidents and requests that clients may face regarding the implemented IT system. In short, a service desk serves as the medium of communication between users and service providers, where reported errors should be addressed immediately.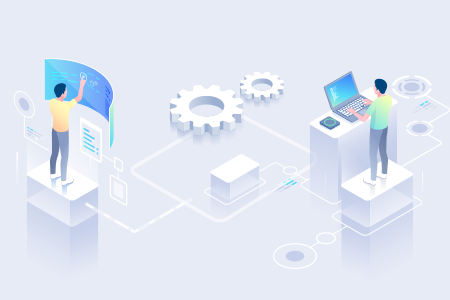 The Layers where Service Desk Monitors
A Service Desk operates in such a way to monitor and manage each layer of service from the start to the end. These layers are categorized as:
# 1: Frameworks Operations
The capacity to perform center frameworks administration undertakings. Center frameworks administration incorporate execution checking, the establishment of patches, change administration, account administration, and support for particular stages, Linux, Unix, and so on.
# 2: Network Operations
The capacity to screen all system gadgets and associations remotely. A service desk oversees and screens occurrence reports, movement, performs organize audits, executes reinforcements and oversees change on the system. In this way, a Service Desk guarantees the foundation of the system is streamlined to meet the business needs of the venture.
# 3: Database Operations
The capacity to keep up and upgrade database undertakings. Execution checking, observing faults, log surveys, get to administration, and change control for database programming.
# 4: Security Management
The capacity to shield the venture from external and internal dangers. A Service Desk will perform weakness checks, screen IPS logs and guide this information to the data security-related administrative orders.
# 5: Systems Operations
Described as the capability to manage core systems correctly, the Service Desk must also be able to monitor changes in the core system rather than just being limited to the network.
Among its tasks include the installation of software patches, management of updates and accounts, and the thorough observation of the system performance. This also covers offering user support for platforms such as Linux, Unix, and the like.
What is an Effective Service Desk?
Given the layers where service desk monitors, it is also important to know how to rate an effective service desk. Which areas does your service desk should satisfy? You will know that a Service Desk can perform its functions correctly if it can trigger several beneficial effects.
An adequate Service Desk enhances an organization's fulfillment by overseeing IT costs while dealing with the lifecycles of the equipment in the network infrastructure and by using ITIL best practices. Among these include the following:
# 1: Customer Satisfaction
By improving the service quality to customers of a particular business, a Service Desk will undoubtedly yield this result. It resolves issues on time which obstruct the flow of business from the customers' end.
# 2: Company Satisfaction
As a Service Desk makes the IT system management easier and more efficient, what is otherwise known as a tedious burden is lifted from the shoulders of the company, allowing them to focus on making strategic advancements.
# 3: Effective and Consistent User Communication
Since issues and inquiries are addressed immediately, this allows for an efficient communication system between the enterprise and its users. That is an excellent attribute of the service.
Conclusion
ITarian is a fully featured IT management platform that serves a complete management and protection for Managed Service Provider (MSPs) and IT administrators. The ITarian is a complete, scalable central IT management platform that includes Remote Monitoring and Management (RMM), Service Desk, Patch Management, Mobile and Endpoint security management and other essential IT management tools for MSPs in a single, easily navigated console.
MSPs will be able to gain real-time visibility as issues develop and generate detailed reports based on project timeline, assets, costs, ticket type, and staffing. Further, MSPs will be able to easily define service level agreements and configure ticket due dates, warnings and billing to match. It helps administrators identify issues correctly as these were dispatched properly to designated departments.
Sign up for the ITarian Platform and get the chance to use the service desk tool. It is all Visit our ITarian website for more details.