This enables administrators to manage multiple endpoints from a single console, including the installation of software and detection of new devices. Hence, it empowers businesses to focus on their core operations, while their IT specialists monitor and manage their systems conveniently.
RMM has a lot of benefits, and one of these is to minimize downtime. As RMM services run 24/7, an IT expert can easily detect an emerging problem before it can actually affect users and the business itself. With this, an RMM tool can surely avoid service disruption.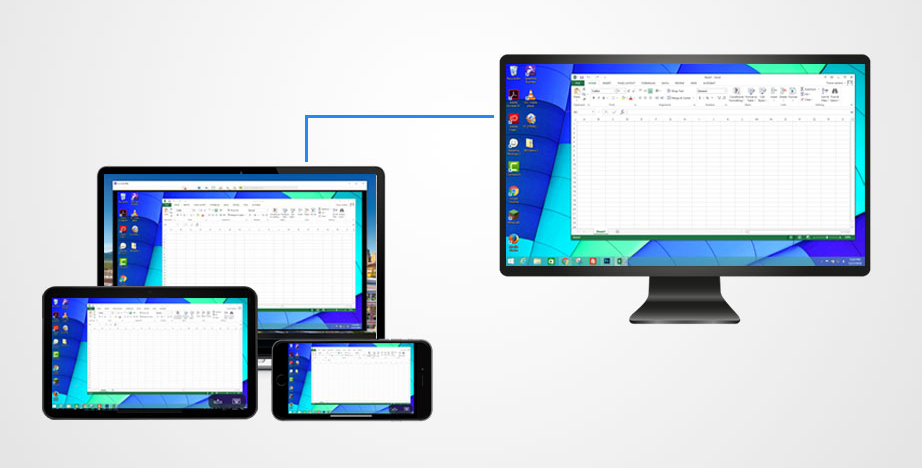 It can also handle much of the routine maintenance that an IT system needs, as remote desktop web access provides access to install and update software. Moreover, it lets IT administrators monitor the overall health of a system to prevent performance issues.
In short, having an RMM can increase productivity and secure businesses' operations—and this is the reason why you should consider getting one.
Installing an RMM isn't as technical as it seems. In fact, it is simply installed on local computers and can be deployed over the network/internet on a remote access server. Once authenticated, the local user can start accessing the entire desktop/server or configured services, such as data or downloaded files.
Meanwhile, one of the best providers of RMM tools is Splashtop. It offers several RMM solutions that can meet the needs of different users, such as individuals who are working from home, and those who are working for IT management, remote learning, and desk support.
Splashtop RMM client download can be done easily, too. To help you get started, we have compiled the top six remote computer access solutions from the brand, so you can get the perfect one for you.
Now, let's begin our Splashtop RMM client download guide:
SPLASHTOP BUSINESS ACCESS
If you are working from home, Splashtop Business Access will be the best remote desktop software for you. Designed for individuals who are always on the go, this software allows users to connect to Windows, Mac, and Linux computers from any Windows, iOS, Android, or Chromebook device remotely.
Moreover, it matches not only those working from home, but also an entire team, business professionals, and even the whole business organization.
If you think that it will work best for you, you can access it at Splashtop RMM client download.
SPLASHTOP SOS
Splashtop RMM client download also allows consumers to get Splashtop SOS, which is thoughtfully designed for IT, support, and help desk teams, who need to provide remote support to their users' computers, tablets, and mobile devices. Unlike other software, there is no prior install needed to use Splashtop SOS.
A support technician would simply launch a remote access session to their client's device using a session code.
SPLASHTOP REMOTE SUPPORT
Meanwhile, if you are looking for an RMM solution that can provide you with a powerful and flexible way to remotely monitor, manage, and support your customer's computers and servers, Splashtop RMM client download will also give you access to Splashtop Remote Support.
Designed for Managed Service Providers (MSPs), Remote Support allows IT specialists to manage, monitor, and support their managed computers with complete ease.
SPLASHTOP FOR REMOTE LABS
For other organizations like schools and colleges, users can go to Splashtop RMM client download to install Splashtop for remote labs.
This software allows students to remotely access school lab computers, using their own computers, laptops, or other devices. With this RMM tool, schools can promote education through an enhanced remote learning and hybrid learning environments.
In fact, students — or even teachers and staff — can access any lab computer software, data, and files from any personal device, without any hassle.
SPLASHTOP ON-PREM
Splashtop also provides an RMM software that aims to deliver the needs of large organizations. Aside from being user-friendly, Splashtop On-Prem is also a secure and reliable tool that gives users an all-in-one access and remote solution.
It offers unattended anytime access and attended on-demand connections, allowing users to access work computers from anywhere. Meanwhile, it also enables IT and helps desks to boost efficiency in supporting business computers and devices.
You can download it here.
EDUCATION COLLABORATION WITH SPLASHTOP CLASSROOM AND MIRRORING360
Another solution from Splashtop that can elevate a user's digital experience would be Mirroring360 and Splashtop Classroom.
Splashtop Classroom provides teachers or instructors with full remote control on PC or Mac. Alternatively, they can also allow students to see and control the lesson from their own devices.
Meanwhile, Mirroring360 enables instructors to share the screen of their Windows, Mac, Chromebook, iPad, iPhone, or Android to the class computer.
These RMM tools from Splashtop are expected to innovate the way educators and students interact in the virtual world.
Final Thoughts
Splashtop is just one of the many providers of high-quality and secure RMM tools. Offered at unbeatable prices, its solutions provide users with the best performance that you won't find anywhere else.