Remote Access
Similar to computer networking, remote access allows a user to log into a system without being physically present. Remote access is effective and convenient for users on the corporate network who can remotely connect to actual system interfaces to trouble shoot issues, install and configure software, uninstall software, and more. Remote Access is mostly used in corporate networks, however it can also be used to access home networks.
Comodo introduces RMM (Remote Monitoring and Management), which permits MSPs or IT admins to remotely access endpoints to solve issues. The end-user can view the actions you take while you troubleshoot the issues. Comodo RMM has sophisticated capabilities organized and managed from a unified console. Remote Monitoring and Management solutions operate on Virtual Network Computing Technology, which is flexible enough to work across multiple operating systems.
Comodo Remote Monitoring and Management (RMM) Setup Overview
Enable the RMM Extension of Endpoint Manager.
Install the RMM Admin Console. The console efficiently helps to monitor endpoints, organize policies, and configure requests from the service desktop. The console has to be installed on a local system or a server.
To download, open Information Technology System Management>Go to Devices> and select Device List
Choose the required endpoint from the list and click to choose the 'Take over' option. This permits you to download the console setup to the target system.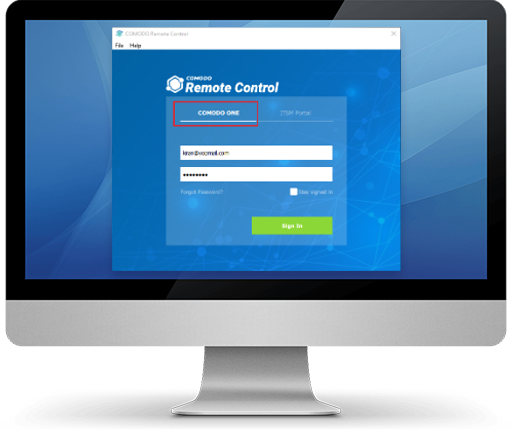 Why and How Comodo ONE Remote Access and Control is a Vital Part of ITSM
Comodo ONE Remote Access and Control enables administrators to take remote control of the workstations, servers, applications and mobile devices to troubleshoot problems more efficiently. It also provides provision to review and validate performance data and introduce security patches, application updates and configurations to remotely address issues.
Remote Access to Files
Remote Access permits remote users to access files and folders on any devices or servers that are connected to the network.
Benefits of Remote Access
Helps to monitor and control the machines that are connected to the network.
Quick and instant response to troubleshoot the issues.
Instant access to files in the servers or devices that are connected to the network
Admin access rights to all the files are defined based on the categories of each users