Businesses need to adapt their remote access technology for their corporate networks to give their employees an easy way to access their office computer's actual system as well as all the files and resources saved in it. Because of this, employees can now perform their professional duties and responsibilities outside their central work location. This privilege will also come handy as it makes addressing issues and problems faster and easier. Also, having remote access capability allows you to immediately respond to business requirements.
Here are some benefits you and your company can enjoy when you choose to adapt this technology solution of having the ability to remote access a computer in your corporate network.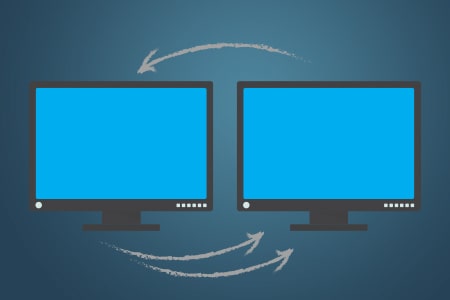 The Benefits When you Can Remote Access A Computer
Remote Access A Computer Benefit #1:
Remote Administration The first benefit when you can remote access a computer is that you can perform remote administration. Remote access allows you to monitor and control devices that are connected to the corporate network. Moreover, it makes your computer system accessible to any laptop, smartphone, and any other device. This will hugely benefit you and your employees as all of you will have the capability to access the corporate network remotely and be productive even without being physically present at the office.
Remote Access A Computer Benefit #2:
Faster Troubleshooting Another advantage when you can remote access a computer is you will be able to troubleshoot problems quickly and instantly. Remote access gives your company the power to troubleshoot problems and issues that may arise in your network anytime and anywhere. There is definitely no more need for IT professionals to go to the computer system's location to fix irregularities as technical problems can now be fixed by remotely accessing the corporate network. As long as they have login credentials, troubleshooting problems can be addressed immediately. No doubt, remote access saves both time and company resources.
Remote Access A Computer Benefit #3:
Remote Access to Files With remote access technology, you won't be able to just access files and data saved in your office computer but you can also upload files to your computer remotely. Another impressive thing when you can remote access a computer is that you also have the ability to access even files on other computers connected to the network. You can do this as long as you were given the permission to do so. What's great about remote access is that you can set up the privileges users will have (depending on business requirements) when it comes to accessing specific devices and folders.
Remote Access A Computer Benefit #4:
Accessibility One of the biggest benefit you can get from having remote access is accessibility. When you can remote access a computer you can manage and perform tasks anytime and anywhere. This gives you and your employees the utmost convenience in performing and finishing up duties and responsibilities in your respective jobs. After all, What is more convenient than all people in your organization having remote access to your corporate network wherever you are? All the data that you need are kept in a well-secured database system that is accessible anytime no matter where you are in the world.
ITarian, a global leader in cyber security solutions, brings you ITarian, the only complete scalable IT management platform that is offered for free. ITarian not just provides its users the capability to remote access a computer but also other essential IT management tools like Remote Monitoring and Management (RMM), Service Desk and Patch Management all in one feature-packed platform.
With ​ITarian, the power to remote access a computer or network will be at your disposal. Now, you have the power to easily troubleshoot problems and efficiently manage your workstations, servers, applications and other mobile devices even when you're out of the office. ITarian also allows you to review and validate all performance data and introduce security patches, application updates and service configurations to remotely address every issue.
Related Resources: