Here's an ITSM Wikipedia Definition:
Information Technology Service Management uses a process approach to management. ITSM centers on client needs and IT services for customers.
ITSM Definition
ITSM is a way of managing the IT services an organization offers to its clients. It joins IT processes and services with business goals. This aids in an organization's growth.
Combining the two definitions seem better. It is a client-centered method of providing the IT services of an organization to its end users. We now have a clear ITSM definition.
You will learn what is IT Service Management and why you should take advantage of its benefits. You will also know about the different stages of ITSM processes. You will later understand the best practices in implementing ITSM processes.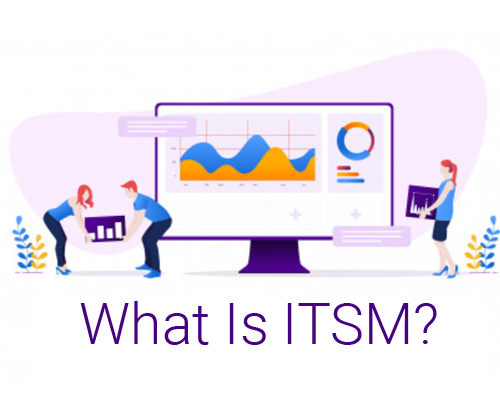 ITSM Important
ITSM ensures that there's streamlined management for IT services and processes. ITSM processes that are effective have a positive impact on the organization.
Here are the main benefits you get from IT Service Management:
There is no risk when implementing IT changes through ITSM.
IT Service Management gives you the ability to set well-defined, repeatable, and flexible IT methods.
IT processes and services have more clarity.
IT Service Management improves the performance of the people in your IT department.
Using ITSM software would lower the costs of IT operations.
Service interruptions are minimal.
Return of investments or ROI is higher.
It gives an expert analysis of IT problems that help in reducing repeat incidents.
It gives your IT personnel well-defined roles and responsibilities.
There are clear expectations on service levels and availability when using ITSM software.
These benefits are pretty much self-explanatory. You now know what is IT Service Management and also why it is important. You will learn about the various stages of ITSM processes in the next section.
Different Stages of ITSM
The following five stages are present in a typical ITSM process:
Stage #1 Service Strategy
This stage builds the infrastructure of an organization's IT Service Management process. It involves the following as well:
This stage defines the services that the business will provide
This is also where the planning of ITSM processes takes place.
This stage also recognizes and develops the required assets to keep processes moving.
Stage #2 Service Design
The main goal of this stage is to plan and design the IT services the organization will offer. This stage is where the creation and designing of new services take place as well. This is also where the assessment of current services occurs. This stage also looks for services that need improvements.
Stage #3 Service Transition
This stage is where the building and testing of IT services happen. The IT team should also ensure that no disruption will happen if an IT service needs an upgrade or redesign. It is important to plan, schedule, and control the deployment of various releases. This ensures minimal interruption to current services. There's always a risk in every transition. One should take precautionary measures during transitions.
Stage #4 Service Operation
This is the stage where the implementation of the designs take place. The ITSM processes have undergone testing. Issues have solutions as well. Expect to hear from customers once they start using the services. IT teams still need to observe the processes and workflows. They should take initiative in ensuring a good flow of service delivery.
Stage #5 Continual Service Improvement
The implementation of IT processes shouldn't be the final stage. There's always room for improvement and development. This involves factors like issues, customer needs and demands, and user feedback. KPIs or Key performance indicators and metrics are also contributing factors.
Best ITSM Practices
You might be wondering how to execute an effective ITSM process? The steps below are the best practices in executing ITSM processes and workflows:
Best Practices #1
Take time to assess your current ITSM processes. Identifying the gaps is important. Preparing recovery tactics is advisable as well. Take into account every component that needs attention.
Best Practices #2
Educate and communicate with everyone including stakeholders when implementing ITSM processes. This ensures that things are transparent especially when there's a big change coming.
Best Practices #3
Describe the significant success factors and keep watch on KPIs and metrics. The IT help desk's performance is measurable through metrics and KPIs. This is important to keep track of factors that affect the success of the business.
Best Practices #4
Using the tools that are relevant only to the business is advisable. Tools that simplify work like applications that offer automation are good. An ideal IT help desk tool should have real-time analytics and automation features.
Best Practices #5
It is also important to hear from your customers or clients. Providing some sort of feedback system is advisable. This can be an email survey sent to your clients. This can be a form where anyone can place comments. You can also put up a dedicated forum for this as well.
Conclusion
You are now aware of what is ITSM. You also learned why it is important. You now also know the different stages of an ITSM process. You learned about the best practices in implementing ITSM processes and workflows. For more information, please click here.