Introduction To ITSM
All employees these days have their own network username and password. A supervisor or manager files a service ticket for the creation of these accounts. The service desk receives the ticket and processes it. This is one of the many IT services simplified by ITSM tools.
What is ITSM? It stands for Information Technology Service Management. It manages the IT services that a business provides to its customers. It's a client-focused approach to providing IT services to end users.
ITSM tools help in delivering, improving, and managing IT services in an organization. IT service management tools help companies in achieving their goals in an effective and simple way. ITSM processes are manageable in one location using ITSM tools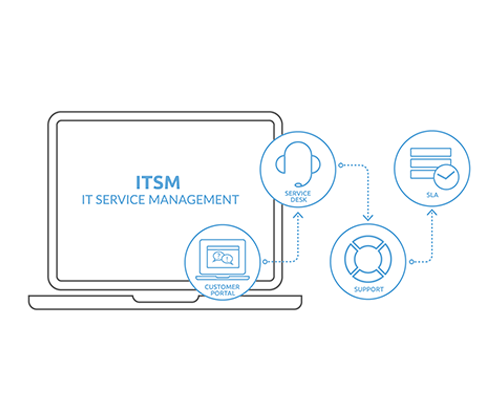 There are a lot of ITSM vendors out there. Which one offers the best ITSM software? What are the different things to take into consideration when choosing IT management tools? We will answer these questions in the next sections.
Tips To Consider When Selecting ITSM Tools
A lot of questions are plaguing your mind when choosing the right ITSM tools. You try to compare one vendor to another. You look for the right features that you need. Here are some valuable tips that will guide you in choosing the right ITSM tools:
Start by listing your business goals and needs.
What IT services your organization needs? The IT management tools should work well with the goals of your business. The things you listed will serve as a guide in determining the right IT management tools for your business.
Don't forget to consider what the users of ITSM tools have to say.
It is necessary to hear from the people who will use the IT service management tools. They are the experts on this matter. They will help you find the right IT service management tools for your business.
Read product reviews and ratings.
Reading feedback from customers is a nice place to start as well. This serves as a guide about the pros and cons of a product. Product ratings serve as an indicator of customer satisfaction.
Your ITSM software vendor should offer great support.
Some vendors are good selling but don't care about providing good after-sales support. Your vendor should be able to handle your technical concerns 24/7.
Your ITSM tools should be consistent across all departments in your business.
You don't want some issues arising from using different TSM tools. Your ITSM tools should support your operating systems among other technical requirements.
Those are some of the tips to take into consideration when you are choosing ITSM tools. We will talk about the key features to look for in ITSM tools in the next section.
Best Features To Look For In ITSM Tools
A lot of ITSM tools offer basic features only. You have to pay for the extra functionalities. You need to find the right one that offers more features and value for your money. Here are the amazing features that make ITarian stand out from the rest:
Standard features other vendor offers
Explanation
ITarian
Explanation
Ticketing
Every technical concern gets a corresponding ticket number. This is a way of tracking solutions to problems.
A standard feature that all ITSM tools have. Also known as service desk. ITarian also offers this ticket management system.
Problem and incident management
This involves the search for solutions in minimizing downtime. This also stops incidents before they occur.
This is another common feature found in most ITSM tools. ITarian also offers this functionality.
Asset management
The word "asset" here refers to physical devices and peripherals. This feature tracks and manages hardware equipment.
This is a standard feature that ITSM tools provide. ITarian offers this as well.
Analytics and reporting
All ITSM tools offer these features. These functionalities are all about statistical analyses and data presentation.
ITarian also offers these features. ITarian has an easy-to-use dashboard. This is where you can see an overview of your network and its components.

table heading

RMM or Remote Monitoring and Management.

Not all ITSM tools offer this feature. This functionality covers the following areas:

Updating the operating system
Active maintenance
Updating the antivirus definitions
Hard disk defragmentation

table heading

Endpoint management

Majority of other ITSM tools do not offer this feature. This feature provides support for endpoint devices like laptops, tablets, and smartphones.

Notable sub-features include:

Adding of users is quick.
Adding user devices is also easy.
Creating configuration profiles is quick and easy as well.

table heading

Software Deployment
This is one of the best features of ITSM tools that ITarian offers. This lets you automate the deployment and management of third-party software. This feature also lets you track application usage and its status.

table heading

Network Assessment

Not all ITSM tools would bundle this feature. Most ITSM vendors would sell this functionality in a separate application.

ITarian gives away forthis network assessment feature. This functionality allows network admins to conduct thorough scans of client networks. This also prepares risk reports and mitigation plans.
Conclusion
You have learned what IT service management is. You also learned some tips to consider when choosing ITSM tools. You now know the amazing features to look for when buying ITSM tools. For more information about ITSM tools, you can click here.