ITSM is built on the core belief that IT is a concept that needs to be delivered as a service. A typical ITSM process can involve something as simple as an employee asking for a new laptop. They are required to fill in a request form through a portal. The ticket will land at the IT desk and is queued as a request based on the importance hierarchy.
ITSM support model vs. ITIL vs. DevOps
Different IT teams use different management frameworks in their service delivery. ITSM and DevOps are the most commonly used models, even though other numerous concepts exist.
ITSM
As mentioned above, ITSM refers to the processes used by IT teams to manage IT services delivery to clients. A team can structure their approach to align with ITIL practices and be influenced by DevOps concepts.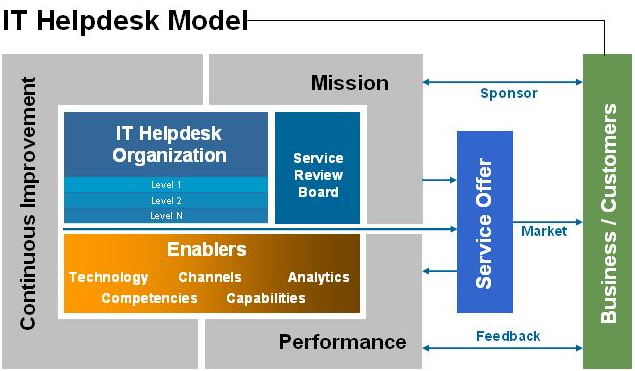 DevOps
This model emphasizes on accelerated delivery of IT services made possible by lean and agile practices. DevOps can improve collaboration between the development and IT teams, thus enabling organizations to build, test, and release new software more reliably and faster.
Some of the benefits of this model include faster software releases, building trust, and the ability to solve IT issues faster as well as better management of work.
ITIL
This is the most widely used concept in ITSM. It focuses on aligning IT services with different business needs. With ITIL, organizations can adapt and scale ongoing IT changes. ITIL can guide teams to adopt a holistic framework that is valuable to the business and customer. It also encourages a more flexible approach based on how different teams work. The ITIL framework promotes simplicity, collaboration, and feedback.
Why the ITSM support model is important
ITSM can improve service delivery in your IT department with service management principles that can improve your organization's work. It can lead to a gain in productivity and can lead to efficiency. It brings a structured approach to IT service management, making it possible for IT to align with your business goals.
ITSM can also standardize service delivery based on the organization's resources, budgets, and expected results. It is a way of reducing costs and mitigating risks while at the same time improving the customer experience.
Some of the most common benefits include:
Alignment of the IT team with organizational proprieties tracked by use of success metrics.
It makes cross-department collaborations possible.
It bridges the gap between IT and development teams by streamlining the project management structure.
It empowers IT teams by enabling them to share knowledge and enjoy continuous improvement.
It improves request coordination for efficient service delivery.
It promotes customer centricity through self-service and aligned processes.
Allows for quicker responses to major incidents in IT while preventing future similar incidences.
All these work to reduce costs and improve service delivery.
ITSM support model software and tools
With the ITSM software, IT teams can create a strategic approach to organizational transformation, change, and growth. There are numerous ITSM software and tools in the market, ranging from platform services to standalone applications.
Choosing the right ITSM service desk for your team is an important undertaking as it will be the foundation of all your ITSM processes. It acts as the interface between the IT team and the customers. The right office desk should have the ability to manage incident and service requests as it handles effective communication with the users. It also plays a critical role in the management of other ITSM processes.
The right ITSM service desk should meet certain requirements. These include:
Ease of use – it should be easy to set up and use. It needs to have a clean and intuitive self-service portal to make it easy for users to request help, track progress, and search for knowledge.
Should enable collaboration - the right program should provide a platform where developers and other IT teams can collaborate on projects for faster delivery and problem-solving.
Should adapt to the needs of the organization - it should be flexible enough to support any problem resolution, change process, or escalation created by the IT team.
ITSM is the center of any modern-day organization. As the world experiences an increase in software-dependent services, IT teams should have the tools to enable employee and IT team communication across an organization. This is only possible when an organization moves towards ITSM for better collaboration, faster value delivery, and ease of use.