If you are considering the adoption of this software into your organization, we have here a guide that can help you decide if this is the right decision for your team.
Enhancing Ticketing and Workflow
When new tickets are created and directed to the service desk, it is imperative that they are received by the right person the first time. The best ITSM tools can ensure that the tickets are handled properly once they come in. This will not only minimize the amount of time it takes to resolve a ticket, but will also ensure overall efficiency.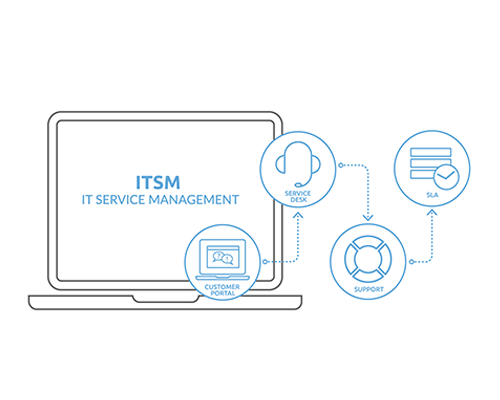 More Efficient Change and Incident Management Processes
ITIL gives you a sneak peek into the best practices for change, incident, and problem management. Now, what is the role of the best ITSM tools in these processes? If an individual or group is accountable for both incident and problem management, they're probably too busy handling incidents that they won't have time to analyze and investigate the issues at hand. By utilizing the best ITSM tools, you will have the necessary insights and tools to create smooth transitions and effectively resolve incidents, as well as implement solutions.
Improved End User Experience
All end users (including your employees) expect to receive a positive, personal experience whenever possible. Chatbots and other AI-run technology can help bridge the gap between long knowledge management articles and self-service. Instead of going through an old article on the ITSM platform, users can just chat with a bot to get solutions to their problems. The best ITSM tools can take your service desk to the next level. With the help of an automated IT self-service portal, the service desk can eliminate time-consuming phone conversations with an agent.
Repetitive Task Elimination
The best ITSM tools improve the ability to skip lower level tasks and implement a shift-left strategy. This moves Level 1 tickets to self-help and removes other lower level requests altogether through automation. It cuts down the amount of time spent on repetitive tasks and allows employees working the service desk to focus on more pressing issues.
Robust Analytics and Reporting
With real-time analytics and reporting, the best ITSM tools can better serve the areas that need improvement in and out of their workflows. Analytics and reporting through ITSM automation can perform beyond the usual service desk reports by collecting historical data, storing data long-term, and using pre-built reporting capabilities to predict trends. This allows you to be more proactive and efficient within your organization's service delivery strategy.
Simpler Escalation of Major Incidents
The best ITSM tools can flag major incidents for appropriate resolution. This is especially useful for organizations that do not have 24/7 support teams. For instance, there are times in the evening and on the weekends where no one is actively monitoring tickets or problems. In case systems malfunction or face some kind of outage, the automated system can escalate issues and incidents to the right people. This way, resolutions are applied even off business hours and before a major service interruption occurs. This results in cost savings as unexpected downtimes are prevented.
Availability of Customer Feedback
Gathering anonymous user feedback, whether from those submitting tickets or those completing them, can help leaders determine what should be done. This is useful across the entire organization and gives insights into improvements that leaders may have missed or not considered beforehand.
Measure Productivity and Streamline Project Management
Determining the level of productivity of a remote or blended workforce can be challenging. With the best ITSM tools, leaders are able to keep track of projects and measure productivity easily. They provide data metrics like ticket-handling time, call handling time, and project timelines, which simplifies project management.
Final Thoughts
ITSM can alleviate repetitive tasks, promotes better execution of self-service capabilities, and streamlines administration. It gives a holistic view of all components and manages them as efficiently as possible. ITarian can help you achieve your goals by providing the best ITSM tools. Contact us today.