But these tools are not free from complications, especially as they grow in capability, which could make them difficult to consistently maintain in terms of security and bug fixes.
A bug is bad enough so what if your internal IT department has a backlog of tasks and they are having a hard time quickly issuing a bug fix? The bottom line of this could put your entire business at risk while consuming valuable IT resources and draining operating budgets.
Don't let the much-needed maintenance of applications slow your business down. You can always use reliable application software.
What is application management?
Application management is the service operation function responsible for supporting and managing applications throughout their lifecycle. This also includes all personnel who maintain operational applications or offer technical expertise.
Key stakeholders in App Management Software
Application manager/application analyst
Business unit owners
Developers/DevOps/DevSecOps
Application users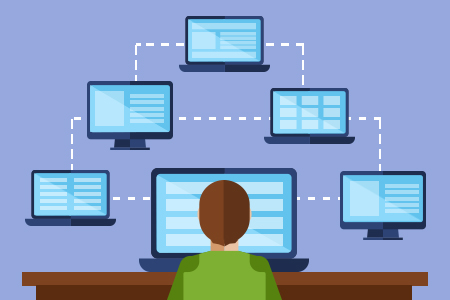 Application management plays an active role in all decisions that involve applications—such as deciding whether the application is purchased or developed in-house.
To help stakeholders, application software has been designed to deliver a wide variety of application services, processes, and methodologies for maintaining, improving, and managing different types of applications.
Objectives of application management
Application management aims to support an organization's business processes by helping to identify functional requirements for application maintenance and enhancement, as well as assisting in the design and deployment of those applications and providing ongoing support.
These objectives are met by:
Deploying applications that are well-designed, resilient, and cost-effective
Ensuring that the organization has the essential capabilities including the use of helpful tools, such as app management software to achieve its business outcome
Ensuring that the technical staff in charge of maintaining the applications has the required technical skills
Diagnosing and rectifying any technical failures that occur
Benefits of Manage Application Software
There are a number of benefits application management software can bring to an organization. Here are a few:
Innovation
Application software helps ensure that all applications within an enterprise are optimally managed. This enables application development teams to spend more time on new innovations, which ultimately allows them to make important business decisions and provide support faster and more efficiently.
Through this innovative tool, barriers between teams are broken down as well, as it encourages teamwork, fresh collaborative ideas, and a smooth flow of information.
Increased performance
With the help of app management software, maintenance costs and intervals are minimized by allowing stakeholders to synchronize design, development, and testing efforts.
Application software also boosts business performance and revenue streams significantly by refining the availability and performance of critical applications.
Business continuity
Application management software reduces the risk of IT downtime and other forms of downtime. As teams are also encouraged to employ best practices, efficiency is further increased, especially when developing and implementing systems. All of this enables your company to remain focused on your core business.
Platform stability
Another benefit of utilizing app management software is its capacity to accelerate development via simplified integration and interconnected systems. Through DevOps, improved cooperation, and knowledge sharing among the Service Desk, Application Operations, and Application Development, potential issues can be solved more immediately.
Recurring problems are rectified conclusively and unnecessary escalation is no longer needed. This ultimately allows the Application Development team to concentrate fully on development.
Better end-user experience
Higher-quality applications will not only lead to a better user experience, but also in higher numbers of productive business interactions between internal and external users. As a result, the quality will improve and deliverables will meet the requirements and expectations of the stakeholders.
Higher productivity
Through application management software, the monthly number of man-hours spent in huddles is greatly minimized. This leads to a significant betterment in the productivity of IT staff, who are now able to support twice as many business users as they can.
Minimal need to rely on expensive, outsourced experts
The increased dependence on expensive experts is one of the biggest challenges for organizations with a compartmentalized organizational structure and spiral-shaped complexity.
With application management software, however, the maximum result from investment in skills, processes, and technologies is achieved. Additionally, even junior support engineers can be more productive in less time with the tool's so-called 'factory-style' end-to-end app management.
Reduces total cost of ownership
Application management software boosts flexibility by reducing the time required to build and implement applications. Moreover, an app management approach focused on end-user experience allows IT departments to enhance efficiency. This is because fewer IT staff are required to handle problems, which results in lower operating costs since the number of problems and escalations is minimized.
Takeaways
Application management software is built to help all stakeholders in application management to carry out efficient, dependable, and cost-effective functions that allow an organization to meet its business objectives. Contact ITarian to know about the services we offer.
Related Resources: