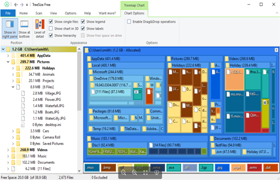 TreeSize
License: Freemium
Features:
Adjust the level of detail of the information that is shown in the tree map using a slider.
Customise whether or not files and file types are shown in the tree map
Modify the colours of the treemap chart to fit your preferences.
Choose between a flat 2D view and a 3D view that shows the tiles like a cushion.
The TreeSize treemap chart supports Drag&Drop operations.