Handling multiple remote connections can be a challenge for teams juggling with several tasks daily. This is why remote desktop connection managers come in handy. These are tools that help users connect remotely to multiple computers and machines at once. Two of the top names in this game would be the Microsoft remote desktop manager called the Remote Desktop Connection Manager (RDCMan) and ITarian's Remote Access.
Examining the features of each one should help organizations decide which option is better for them. Each tool has different areas that they are excellent at, so it would also help if organizations know what features they want to prioritize.
Microsoft Remote Desktop Connection Manager Offer
Microsoft provides organizations with the Remote Desktop Connection Manager made by a Windows Live Experience developer to support the handling of several remote desktop protocol (RDP) connections. Users can manage all these connections using only a single window.
However, RDCMan was found to have a vulnerability in its XML file format, so Microsoft decided to discontinue it. After its discontinuation, Microsoft moved the users to the new tool called Microsoft Remote Desktop app.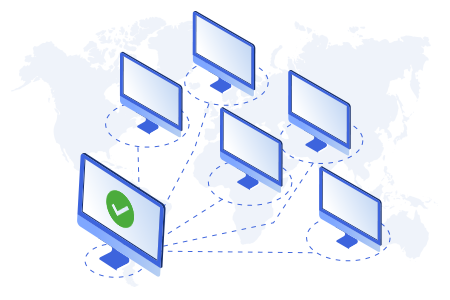 With the introduction of this new app comes new features worth exploring as well. These include the following features for the general settings of the replacement for Microsoft remote desktop assistant
Remote Desktop Manager:
Users can enjoy gateway server support. This is best used for corporate networks' internal communication but can also be used to link to a gateway that will connect users to remote desktop resources.
Users can access stored user accounts that they can use in connections. They may use formats, such as domain/username, username, or username@domain.fqdn. There are also options regarding whether each account should require a password or each stores a password to avoid prompting for one.
Users can sort through multiple connections by grouping them or storing them in different folders.
Users don't have to keep doing anything with the computer when the machine it is connected to remotely is running something that does not require much interaction. The replacement for the Microsoft remote desktop manager can be set to stop screen timeout.
In terms of connection settings, this Microsoft Remote Desktop tool boasts of the following features: Users can link to the administrative session, also called the console session. This works well when the connection needs troubleshooting, or they want to add another session.
Accessing files is much easier to do with thumbnail previews of the user's previous connection state with the device
It is more convenient to subscribe to resource feeds by using the URL of the support resource to an app such as RemoteApp
Copying files is a simple drag and drop functionality between the local and remote systems
It allows users to play an audio or recording file from the local system to another local device or remote system
Users can choose between two modes - direct touch and mouse pointer. The former is ideal for those with a Windows touch screen device, while the latter is best for devices with a standard mouse input or touchpad.
However, there are a few features from the discontinued Microsoft Connection Manager tool that have not made it to this new Microsoft Remote Desktop app, including the following:
Virtual Groups. This feature automatically groups connections based on their given status.
Smart Groups. This feature defines groups according to the criteria used to populate a group.
Session Listing. This RDCMan feature allows users to list all remote connections open during an individual session.
Server List Import and Export. RDCMan saved remote connections in an XML file, which makes it more convenient to export and import files.
Remote Access Solutions
After exploring the features of the replacement tool for the recently discontinued Microsoft remote desktop manager, organizations may also want to consider ITarian's Remote Access Solutions. This tool gives users access to remote devices as well as their applications and data. ITarian designed it to be easy to use, configure, and manage.
Here are some of Remote Access Solutions' top features that users can expect from the Remote Access Solutions:
Secure access. ITarian's tool comes with strong video encryption using the Secure RTP protocol. It stops any non-authorized person or a third party from listening in and recording the users' private interactions with each other.
Multi-screen. This feature allows users with a multi-monitor setup to choose among "Switch Screen," an individual monitor, and "All Monitors" to view the remote device's screen.
Session confirmation. The remote device being accessed will show a message about the attempt to connect to it.
View. Users can choose among Best Fit, which shows the best screen resolution available; the Original, which displays whatever has been set with the target desktop; the Scaled, which displays the target desktop but with the same resolution as the local device; and the Full Screen, which allows users to display the remote desktop in full screen of the local computer.
Free from firewall settings. Instead of a firewall, ITarian follows the standard technologies and protocols.
Better security screen. Choosing the Send Ctrl+Alt+Del option helps users lock the device, log the user currently using the remote machine, check out the local task manager, change passwords, or manipulate the machine to hibernate, restart, or shut down. Another option is Send WinLock, which locks the endpoint with a password. The third option is Send Special Keys, which allows users to make key combination commands.
Auto-update. ITarian's counterpart of the Microsoft Connection Manager gets updated automatically.
Knowing the features of these remote desktop manager tools should help organizations decide which one suits them best. ITarian's Remote Access Solutions, unlike the Microsoft remote desktop manager, have simplified things for its users, just by looking at the features mentioned above. Depending on what level of remote access organizations need, they can count on either option