Running a business is a demanding task with a grueling schedule that may only improve using specific tools, such as remote access software. When accessing a device is physically or logically impossible to do, it does make sense to use this tool. Fortunately, it is not only limited to Windows devices because remote access Mac software is also available in the market.
Users who are familiar with handling Windows devices might have trouble dealing with accessing Mac computers remotely. However, there are three pathways toward putting the Mac remote access process into action. Once any of these three succeeds, a remote connection will be established to allow users from a distance to control the other device.
Here are the top three commonly used methods to start the remote access Mac procedure:
Remote Access Mac Through Screen Sharing
This is the method commonly used when providing support to Mac users. There are five steps to follow in this method, which are all easy to understand and simple to execute. Even those who are new to the Mac ecosystem will not have trouble following along. Here are the steps that users, even those within the organizations' IT team, need to follow to initiate the remote access Mac process:
Open the Mac's Screen Sharing app.
Fill out the Apple ID of the Mac device that needs to be accessed remotely.
Tell the user of the device on the receiving end of the request to accept it.
The remote Mac device user has two options - allow the requester of the remote access or merely view the screen.
Once the other Mac's user accepts the request, the Mac remote access connection is established.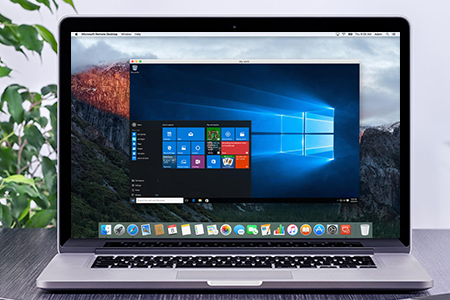 Remote Access Mac Through iCloud
This method is ideal for users who just want round-the-clock access to the files stored on other Mac devices. It could apply to employees who are cleared to continue working from home or any other location but forgot some of their files in the Mac device they often use in the office.To activate the iCloud Drive, users simply need to do the following:
Open "System Preferences."
Choose "iCloud."
Click on "Options."
Choose "Desktop & Documents Folder."
A simple reminder would be to save all the important files that they work on in the office in the folder mentioned above. This will ensure that they can get to their files wherever and whenever they may need them.
Remote Access Mac Through Remote Access Software
Investing in third-party software to access a remotely located Mac device makes sense if both devices can install remote access software. All the devices involved in establishing the remote connection also need to have Internet access.
The good news is that there are remote access Mac programs that can be used even without a VPN. This should be one less hassle for the users to take care of. ITarian's Remote Access Solutions, for instance, is user-friendly and easy to configure. Once both remote and local devices have downloaded ITarian's software, users can then view or manipulate the remote device via the Internet.
What makes this third Mac remote access method worth trying is that it bolsters the devices' security. It is all thanks to the software's robust encryption technologies being put to good use. It also serves as an additional layer of protection for both connected devices.
For organizations worried about spying and leaks, reliable remote access software can stop unauthorized third parties from hearing, watching, or recording entire remote sessions. It helps that the software has session confirmation. This security level will continue as long as the auto-update feature is on, ensuring that the software always has up-to-date technologies. Multi-screen setups also work with the software. The user will also see multiple screens. It starts with implementing a strict identification and verification process that will attest to each move's authenticity during the session.
Conclusion
Conducting a remote access Mac operation might seem overwhelming for new users at first. However, the clear step-by-step procedures discussed above show how simple it is even with critical files involved. There are at least three methods to access a Mac from afar, and every option is surprisingly easy to execute. Even new Mac users can easily follow along, thanks to the easy breakdown of each method.
As long as users have made their preparations in anticipation of establishing a remote Mac access connection, this should not be a difficult obstacle to overcome. No business meeting or critical operation should be put on hold because someone left the files in the Mac at the office. No office work should be put aside because files were stored in a different Mac miles away from the user's physical location. This is the beauty of Mac remote access and how it can help boost small to big organizations' productivity.