Having an organized ITSM service catalog is important in doing so.
What is an ITSM service catalog?
The service catalog was originally introduced as part of the IT Infrastructure Library's set of best practices for IT service management (ITSM).
An ITSM service catalog acts as the mission statement for an IT department. It supports everything from day-to-day IT operations (including incident management) to continual service improvement (CSI).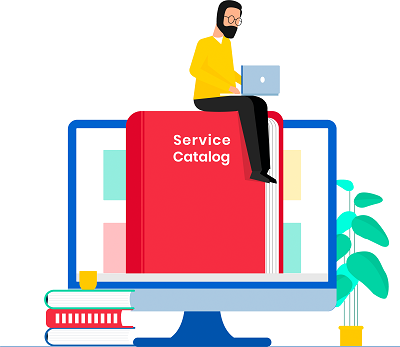 An ITSM service catalog is designed to help with:
Enhancing self-service capabilities
Driving employee behaviors through demand management
Adding focus to continual improvement efforts
The typical ITSM service catalog is composed of two views:
The customer view
Where end-customers experience the service catalog and present services in customer terms, as well as give them the means to commence service requests.
The technical view
Designed for internal IT resources, this includes technical information required to deliver a service more effectively. This also involves important relationships, approval processes, and impact on related services.
Your service catalog must not only be designed with the end customer in mind but must also clearly define the information necessary to request a service. This includes:
Name of the service
Description of each individual service
Service category (Infrastructure, Software, Hardware, Video, Support, etc.)
Supportive and related services
Service Level Agreement (a contract between the service provider and end-customer, which defines the expected level of service)
Who can request the service
Service owner
Costs associated with the service
Delivery expectations
Who to contact with questions
Examples of ITSM Service Catalog
There are no "right" or "wrong" ways to build an ITSM service catalog. However, here are some examples that aim to accommodate the unique needs of your business:
Providing your end-users with help, access request equipment, and gain access
Establishing a familiar interface with clear service definitions
Simplifying access to the productivity-related services for your employees
Providing access to global support services despite varying time zones
Delivering maintenance, repair, cleaning, and installation services in real-time
Offering employees with pre-defined benefits, payroll, and employee relations services
Building an integrated portal for all business service requests
Benefits of an ITSM Service Catalog
Thanks to the arrival of the service catalog, the value of IT is now becoming more apparent. The delivery of services that are crucial to the daily operation of a business, like company web access, email, software solutions, and related services, significantly shows its present and future value to businesses.
These are three significant ways to benefit from an ITSM service catalog:
Improving your self-service capabilities with a service catalog
By describing your service offerings in business language, you'll make your services easier for employees and customers to understand and access. What's more, your customers will find it easier to know what's available and what's best suited to their needs and budget when you include additional service information, such as availability, costs, and support commitments.
Encouraging positive employee behaviors through demand management
Demand management is an ITIL v3 process that aims to understand, anticipate, and influence customer demand for services. With your corporate capacity management, this is where it's determined whether your IT service provider has the ability to meet the required demand for particular services.
Increasing focus to the continual improvement efforts with a service catalog
Most ITSM professionals know that continual improvement is an important part of any IT value stream, especially now with the focus of IT
How to Build an ITSM Service Catalog
Developing a service catalog may sound simple, but it helps to consider the following tips to make it work and encourage customer engagement, as well as set proper expectations:
Determine the services your business needs in order to operate
Establish security and access permissions
Simplify the search process
Optimize the user experience
Roll out in phases
Invest in automation
Roadblocks to avoid when creating an ITSM service catalog
You can achieve success when developing your service catalog by avoiding some of the most known common mistakes:
Don't use tech-talk to describe services
Don't limit your services to what you think your clients need
Don't set access limitations for internal office staff
Don't respond and deliver inconsistently
Don't stop communicating after a ticket is received
There's always the risk of customer dissatisfaction and low IT productivity. This is why it's essential to build a reliable ITSM service catalog. This can provide your IT department with the opportunity to deliver better services and support.
Are you looking to improve your company's IT service? ITarian can help align your ITSM processes with your business goals. Reach out to us and we can help you leverage the power of service management!