Computers and servers are vital equipment of organizations. They reduce the time employees spend on tasks, helping them increase productivity. Without proper monitoring of your IT assets, your overall processes can be affected.
With everything run by technology today, having a hardware system is a good addition to your organization. As your business grows, it can become increasingly difficult to monitor and control hardware inventory. Hardware tracking systems can come in handy to properly manage your IT equipment inventory.
What is a Hardware Tracking System?
Hardware tracking system is a software that tracks physical components (desktops, laptops, servers, etc.) from the procurement stage to the retirement of the asset.
Similar to software, hardware needs to be managed correctly to ensure that the company is getting the most out of their investment. With a hardware system in place, you will have a great level of visibility into your assets. This gives you a clearer picture of the volume and kind of hardware you own, which makes it easier to plan for the future.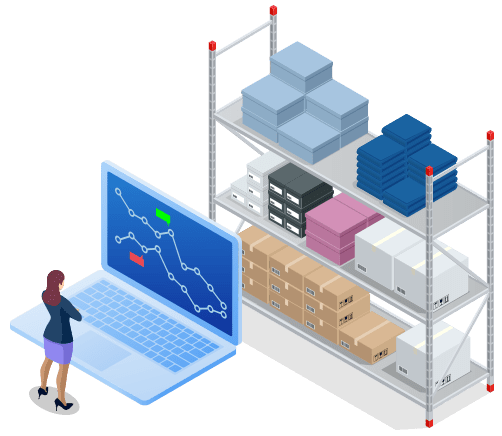 Hardware Lifecycle Management
The phases of a hardware assets lifecycle are as follows:
Hardware Request
Purchasing
Deployment and Installation
Usage
Storage
Maintenance
Upgrade
End of warranty
Buyback or Trade In
Retirement
Disposal
Old hardware or equipment that faces retirement can be refurbished, sold, or recycled. However, keep in mind to wipe out any data saved on your hardware before disposing them. You can be fined large amounts of money if your data isn't removed correctly from the hardware before they are disposed of. Also, it can pose massive security risks to your network if you fail to erase sensitive details.
Functions of Hardware Tracking System
One of the key objectives of a hardware system is to establish a centralized asset repository of your IT equipment. It oversees the business' entire networking inventory and technology services, reducing the labor required to manage IT assets.
A hardware tracking software offers various functionalities that can help companies manage their technology-related processes better. Some of its important features include:
A cloud-based platform where hardware inventory and IT asset management processes can be deployed.
A consolidated database for tracking all hardware assets that is accessible anytime, anywhere.
Details about the physical location, deployment, and lifecycle status of the equipment
History of all the changes made to assets in the centralized database system
Meaningful insights about the life of an asset (for example, data tracking depreciation)
Complete monitoring of hardware lifecycle, from procurement to disposal
The ability to escalate issues to your IT service help desk
Create reports and provide actionable data on key organizational goals.
Benefits of Hardware Tracking System
Cost Savings
A hardware tracking system can save your organization some money. By proactively and correctly managing hardware assets throughout its lifecycle, you can reduce the amount you'll spend on repairs and maintenance.
Moreover, it can give you financial information about the hardware so you can make business decisions based on measurable data. It also helps organizations set a budget for the next years on assets, thus giving transparency to stakeholders.
Increased Visibility
With a hardware tracking system, managing check-ins and checkouts, employee assignments, and asset reservations is so much easy. Assets can be traced quickly across your organization, which improves administration and accountability. If an employee uses an unauthorized IT device on their workstation, you can identify them right away. This tool also enables you to create reports relating to custodianship and identify areas with frequent access violations. This strengthens data security and leaves concrete traces that can be followed up on regardless of time and location.
Saves Time
Having an effective hardware tracking system can save you time. It can speed up SLA or Service Level Agreements for hardware requests or incidents, and generally make hardware management smoother. It can also minimize downtime by tracking the compliance of maintenance schedules as well as security requirements.
Helps Avoid Hardware Theft
Hardware theft can severely impact a business, leading to wasted time in finding the asset and money spent on new equipment (which could've been used for other investments). With a hardware tracking system, you can track where an asset is located and who is using it in real-time. This software can decrease the chances of asset loss and theft.
Final Thoughts
Hardware systems can provide real-time information about your hardware, increase asset life, and avoid non-compliance. Enhance the efficiency of your organization with this tool. Contact ITarian now.