ITSM enterprise's tools can use successfully design, deliver, manage and improve the way Information Technology (IT) is implemented or used within their respective organizations. To be more precise, it is an approach – not just network management or security management tool - which brings together the right processes, people, and technology, to help organizations meet their business goals easily and efficiently.
Tips for Selecting a New ITSM Tool
Pinpoint the key processes
Choose an IT Service process based on your business objectives and make a chart of the integrations that need to be established.
Talk with IT professionals
Join business conferences and webinars to educate yourself about the options available in the market today. Experts often share reviews of almost every solution, ranked based on several factors.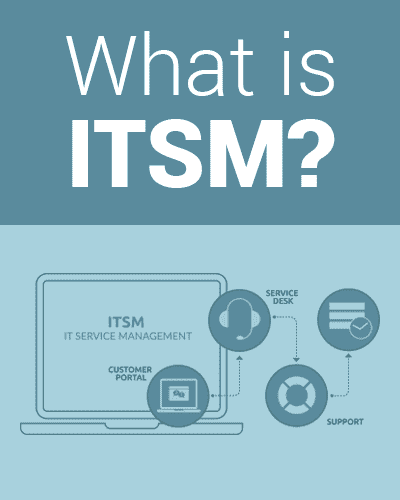 Choose a deployment option
Select the type of deployment for your IT software management tool based on your IT infrastructure model. Some businesses prefer on-premises while others like cloud-based Information Technology System Management applications.
What are your needs and wants?
Be certain about your requirements when running IT services in your organization. Even if they offer fancy features, it would be useless if they don't meet your basic needs.
Plan for the future
If the ITSM tool isn't flexible to the needs of your growing organization, it can hinder you from reaching progress. Understand where your business is heading and choose an IT software that is scalable and technology-driven.
Evaluate tools available
List down your requirements and preferred deployment method and see if it matches the IT software management tool. It is vital to ask around for features, price, and level of IT support before buying one. After reaching this stage, it's ideal to let your technicians try out a couple of different trial versions to monitor their user experience. This should help you make an informed decision.
IT Service Management Services
Different types of IT services cater to all processes and functions. Here is some ITSM software to choose from:
Assyst
Assyst by Axios Systems is an ITSM software that provides the following features:
service management
service catalog
self-service
asset management
collaboration
It has an easy-to-use interface that allows users to design functions for their processes. End-users are given a customized catalog of frequently requested services, enabling users to manage requests and ticketing processes. It also allows them to handle requests by themselves.
ServiceNow
ServiceNow ITSM solution contains the following functionalities:
asset management
change and release management
incident management
IT cost management
problem management
Majority of the organizations that use it include financial services, healthcare, higher education, life sciences, and the public sector. ServiceNow provides a self-service portal where users can report, track, and resolve issues. Its system can also manage financial, contractual, and inventory details of hardware, software, and other infrastructure. Furthermore, this tool provides users with a change calendar, impact calculator, and collision detector which is useful in evaluating risks after the IT environment is configured.
BMC Helix ITSM
This cloud-based ITSM solution offers the following services:
service desk manager
change manager
service delivery manager
IT director
Available through an on-premise deployment, it provides reporting features that let users write custom reports and turn them into dashboards. It also offers incident and problem management that can identify recurring incidents. Customer concerns are resolved easily through its self-service application that is available through social media and live chat.
ITSM Vs ITIL: What's the Difference?
Though many people are confused by the terms ITSM and ITIL, the difference between the two is simple and clear. As mentioned already, ITSM tools focus only on planning and strategizing (and also the management) of IT technology in various enterprises. They don't deal with the implementation part. Instead, various ITSM frameworks are available in the market for this purpose. ITIL processes - which stands for Information Technology Infrastructure Library - is one such popular ITSM framework.
The Major importance of ITSM
IT Service Management is the process followed by IT teams to handle end-to-end delivery of services such as designing, creating, and delivering IT solutions.ITSM gives your team an advantage by applying service management principles, which enhances your entire organization.
Using IT software can make your organization efficient and productive. By having a structured strategy in service management, you can align your IT with your business goals and streamline the delivery of services based on budgets, resources, and results. It also reduces costs and mitigates risks, ultimately improving the customer experience. Here are some of the reasons why ITSM is important for organizations:
Allows cross-department collaboration
IT and development teams can work together seamlessly by using a streamlined project management approach. It empowers employees to share their knowledge across the organization and continuously improve.
Increase control and governance.
Using enterprise service management processes to set up internal controls can help you generate insights regarding the actions and assets usage of your employees.
Deliver and maximize asset efficiency.
Through the automation of business processes, resources are maximized. This improves the coordination of requests to deliver a more efficient service. You do not have to worry about losing track of requests or having to deal with service delays due to the lack of skill of individuals.
Better customer support.
Fostering a positive customer experience with self-service applications and better processes.
Quick Action.
Fast response to major IT issues and prevent future incidents from occurring.
Decrease costs and lead to better service.
With ITSM, you don't have to buy a lot of infrastructure and hire more people. It already provides advanced IT solutions that will add value to your business. Instead of putting in much of your time and money into fixing technological glitches, you can allow them to enhance your business functions adding to their overall growth.
ITIL processes - is one such popular ITSM framework
One of the most popular and commonly used ITSM frameworks is called ITIL or Information Technology Infrastructure Library. It emphasizes the improvement of IT delivery to support business goals and serves as an organization's primary step in moving towards other frameworks like DevOps, Lean, and Control Objectives for Information and Related Technologies (COBIT).
What does RMM Software do?
RMM stands for Remote Monitoring and Management and refers to monitoring software that identifies and reports problems to service providers, allowing RMM experts to fix identified issues. It involves active maintenance, updating the OS, antivirus definitions, defragmenting hard disks, and more. RMM software is a handy and efficient tool for system administrators.
IT Service Management History
The Use of IT Service methodologies dates back to a time when IT businesses implemented vast mainframe environments. Technology has since evolved and become an integral part of IT technology today. . Some good examples of IT Service Management methods are configuration management, performance management, and availability management.
Some significant changes which have evolved with regards to IT Service Management are:
Legacy Systems were reactive, modern systems are proactive
Legacy Systems were centralized, modern systems are distributed
Legacy Systems were more isolated, modern systems can be integrated
Why Use ITSM Tools?
IT Service Management tools help enterprises efficiently manage their Information Technology (IT) systems by:
Assisting IT Operations Team: These tools help enterprise IT operations teams function better by providing them with vital IT Operations Analytics which help them make smarter business decisions.
Ensuring Application Management: These tools also ensure, via proper planning and strategizing, the high availability of critical business solutions. And also greatly help in optimizing the performance of these business solutions.
Automating Workload: These tools bring more agility to the work environment, making them more flexible, and also minimizing business risks. They can automate business processes, ensure high business service availability, accelerate service delivery and maximize asset efficiency.
What are the ITSM Processes?
1. Service Request Management
Service request management is a duplicable procedure for managing different customer service requests such as software and hardware upgrades. It enables customers to automate certain tasks and recurring requests.
2. Knowledge Management
Knowledge management is the method of making, sharing, utilizing, and managing the data of an organization to attain its business objectives.
3. IT Asset Management
IT asset management (ITAM) refers to the administration of the organization's assets. This ensures that all valuable items are accounted for, deployed, maintained, upgraded, or disposed of.
This is the process of responding to an unplanned event or downtime, making sure that the service is brought back to its operational status immediately.
5. Problem Management
Problem management determines and manages the root cause of problems of an IT service. This way, issues are prevented before they even snowball.
6. Change Management
Change management guarantees that standard processes are followed when handling all changes to IT infrastructure – whether deploying new services, managing current hardware, or resolving issues in the code.
How to Implement ITSM processes?
Follow these steps when applying ITSM processes and workflows in your organization:
Review your current IT operation and identify the gaps.
Teach, communicate, and collaborate with stakeholders when implementing IT processes.
Create a comprehensive summary of the success factors and carefully watch KPI and metrics.
Utilize needed IT tools to automate the process
Collect opinions from customers to understand its effectiveness.
Aside from these, you should also remember the following things when implementing ITSM processes:
The maturity of the team
Determine if your team is mature enough to adopt ITSM processes. For example, a company comprising 25 members would not benefit from using ITSM processes as much as a company with 200 members and still continuously growing.
Issue statement
What problems are you wishing to solve? Are you thinking of reducing your IT budget? This can be achieved by streamlining processes and having predictability in your organization.
Framework to use
When looking for a framework for your organization, base it on the issue statement. Although every framework can assist you in achieving structure and predictability, the processes they follow are not similar.
About Endpoint Manager:
Endpoint Manager, which is available as a part of ITarian Products, helps enterprises successfully manage users as well as user devices by addressing four critical aspects of any IT business environment: security, mobile device management, monitoring (via remote management), and issue fixing (via patch management).
Some of the features include quick and easy enrollment of user and user devices, creation of configuration profiles (collection of security settings) with regards to various types of devices that may be present in the network, and easy application of these configuration profiles to devices or device groups, etc.,
Endpoint Manager extends its services to Android, iOS, and Windows Devices.
Did you find this article about ITSM helpful?
Share the wealth!