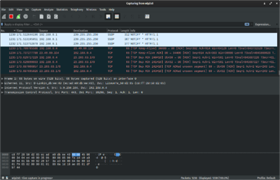 Wireshark
License: GPLv2
Features:
Data can be captured "from the wire" from a live network connection or read from a file of already-captured packets.
Live data can be read from different types of networks, including Ethernet, IEEE 802.11, PPP, and loopback.
Captured network data can be browsed via a GUI, or via the terminal (command line) version of the utility, TShark.
Captured files can be programmatically edited or converted via command-line switches to the "editcap" program.
Data display can be refined using a display filter.
Plug-ins can be created for dissecting new protocols.
VoIP calls in the captured traffic can be detected. If encoded in a compatible encoding, the media flow can even be played.
Raw USB traffic can be captured.
Wireless connections can also be filtered as long as they traverse the monitored Ethernet.
Various settings, timers, and filters can be set to provide the facility of filtering the output of the captured traffic.