The ITSM process comprises several stages, which are based on the ITIL framework. This includes the following:
1. Service Strategy
This initial stage serves as the foundation of the organization's ITSM process building. It basically identifies the services the organization will offer, strategically devise processes, as well as recognize and develop the necessary assets to ensure the processes keep moving. Service strategy for any team includes the following facets:
Strategy Management: Evaluates the organization's market, offerings, and competing parties, and creates a strategy for IT services delivery.
Service Portfolio Management: Takes care of the service catalog to guarantee it that it has the correct IT services, within the defined level of investment, to satisfy customers.
Financial Management: Handles the organization's budget, accounts, and other financials.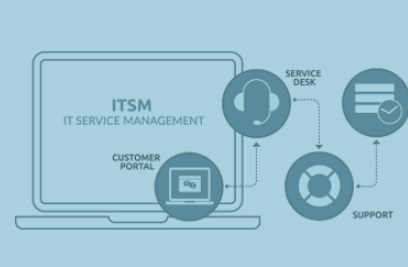 2. Demand and Capacity Management
The goal of this stage is to understand and anticipate the demand for the defined IT services, and ensure that there are enough IT resources to meet current and future business requirements in a cost-effective way.
3. Business Relationship Management
This phase determines the needs of end users, ensures that the right solutions are developed to meet requirements, and to create a harmonious relationship with customers.
4. Service Transition
After finalizing the designs for IT services and their processes, it's time to bring them into life and test them out to make sure that processes flow smoothly. IT teams have to ensure that the designs don't clash with other services in any way, especially when prevailing IT service processes are improved or redesigned. This requires change management, evaluation, as well as risk management. It is important to take note that transitions come with risks so you have to be always proactive.
Change Management and Evaluation: This discipline guides individuals how they can successfully adopt change in order to achieve organizational success. It oversees the lifecycle of any IT change, whether operational, strategic, or tactical changes.
Project Management: Preparing and dealing with major release activities.
Knowledge Management: Responsible for providing knowledge to all ITSM processes.
Service Asset and Configuration Management: Monitors, controls, and maintains IT assets that are necessary for the offered IT services, and their configuration items.
Release and Deployment Management: Schedules and manages the deployment of different releases to guarantee little to no disruption to existing services.
5. Service Operation
This stage encompasses the implementation of tried and tested frameworks in a live environment. While in this phase, the processes have already been tried out and the issues are resolved, yet new processes are likely to have hiccups, especially when customers begin using it.
IT teams should therefore closely keep their eyes on the processes and workflows and be proactive in ensuring stability in service delivery. The ITIL framework describes the following as the core processes in the service operations stage:
Incident and Request Fulfillment Management: Sees to it that all IT incidents are resolved as soon as possible and service requests are addressed within the agreed service level agreements.
Problem Management: Minimize the impact of incidents by coming up with a solution.
Technical Management: Deployment and manipulation of resources with the most appropriate technical expertise and support.
6. Continual Service Improvement (CSI)
After implementing your IT processes successfully, you need to consistently look for ways to improve and develop them based on feedback, the issues that arise, as well as the customer's changing needs and demands. Key performance indicators (KPIs) and metrics are vital in figuring which areas need improvement or change. Here are a few of the aspects of CSI.
IT service review: Going over the offered services and the IT infrastructure to identify areas that require enhancements.
Process evaluation: Watches over processes and assess them to ensure that the requirements are met.
CSI initiatives management: Defining and monitoring CSI initiatives to check if they are executed according to plan and fixing any bottlenecks that occur along the way.
Conclusion
ITSM processes do not only deal with the technical aspects of your IT infrastructure; rather, they are there to help you manage implementations, support, and the improvement of your IT services for the satisfaction of customers.
If you want to take the right approach in implementing ITSM processes in your enterprise, ITarian can help. Our specialists can help align your technologies with your business objectives to set up your company to success.