ITSM Tools
A lot of ITSM tools are available in the market today. Similarly, you will find many ITSM vendors ready to sell you these tools. However, you should take the time to determine the tools you need for your business to buy the relevant ones.
Most large organizations use on-premise ITSM tools as they offer them the flexibility and the customization they want. However, you do not need the on-premise options for a smaller company as they may be overkill. That is why most small and medium-size businesses opt for cloud-based ITSM solutions because they are more cost-efficient and equally effective.
Benefits of cloud-based ITSM Tools
ITSM cloud solutions have several benefits that make them ideal for all businesses, big or small. Below are three examples of the benefits you get from these tools.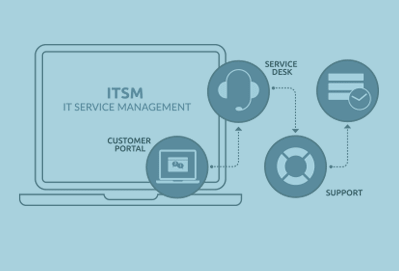 Expandability
Typically, cloud-based ITSM is accessible anywhere as it provides a remote working environment. You can work from any device as long as you access the system. This offers businesses greater flexibility as well as visibility on the web.
With cloud-based ITSM tools, you can work from anywhere and at any time. Therefore, global pandemics and other natural hazards that may limit your physical presence in your office cannot prevent you from continuing with your work remotely.
Cost
Cloud-based ITSM solutions are more cost-efficient compared to the on-premise ones. Technically, the on-premise solutions require server space, hiring experienced developers, maintenance experts, and security. All these translate to high costs every month, unlike the cloud-based solutions that require payment for specific features and licenses only.
Security
When installing cloud-based ITSM solutions, you will not need as much security as you need for on-premise solutions. More so, you will already be aware of all the rules and regulations you need to abide by to stay in compliance with federal and international laws.
Reasons why cloud-based ITSM solutions are suitable for small businesses
Features

Cloud-based ITSM tools provide you with the features you need for your company. They are better than on-premise options because you only pay for what you need. This means that the overall cost will depend on your usage. So, once you find a suitable ITSM vendor, you will request only the features you need for your business.

Implementation speed

Small and medium-sized businesses or companies do not have to go through the long process of implementing ITSM tools. This is because you are still growing, and you only need a few essential tools to support your operations. So, installation takes a few hours instead of weeks compared to larger companies. This means that you can continue your operations within a day or two since the installations are fast and straightforward.

Scalability

A small business works hard to expand its operations every day. As the business grows, the ITSM system should also grow to accommodate the increasing demands. Typically, cloud-based ITSM solutions can support organizations of all sizes. More so, they can support growing organizations effortlessly.

The ITSM solutions software efficiently enables security, shared infrastructure, standard APIs, usage-based billing, and provision models to integrate with other systems without difficulties. This allows the ITSM system to expand and grow with your company.

Ease of use

Cloud-based ITSM solutions are easy to use compared to on-premise options. This is because they are designed for a large audience and abide by the industry processes and practices like ITIL. The tools come with pre-set metrics and report capabilities that allow for easy monitoring of its service management performance.

Many user-friendly interfaces and out-of-the-box processes make the ITSM system very easy to use. More so, many training materials are available to equip new users with the knowledge to efficiently handle the system. Therefore, you can learn how to use the ITSM system and integrate it with other areas of the company to maximize the company's production.
Conclusion
Cloud-based ITSM solutions are the ideal choice for small and medium-sized businesses. This is because they are easy to use, cost-effective, and expandable compared to on-premise ones. As a growing business, it is better to select cloud-based ITSM tools as they will grow with your company. More so, you have more to gain than lose.