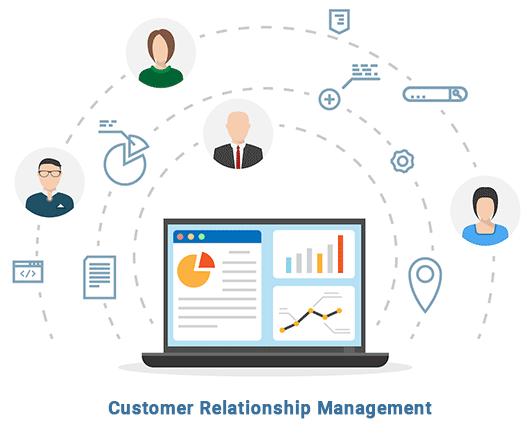 What is CRM Software?
CRM or Customer Relationship Management refers to various strategies and techniques used by organizations to maintain a healthy relationship with its existing as well as potential customers. It includes learning ways to manage the happiness of the customers by giving them what they want and adapting the products and services to increase effectiveness and profitability.
There are many Free CRM software available in the market, but most of them can be availed only on a trial basis. ITarian Free Customer Relationship Management solution is completely free of cost.
In today's dynamic business world, business owners are in a close race with each other to gain the top spot. Keeping pace with the incoming leads, and prospects is a critical task for any business. Customer Relationship Management systems or free CRM software programs help achieve that by tracking everything related to your customers.
Businesses that meet the customers' requirements is more likely to win customer loyalty and, eventually, succeed.
Hence, CRM or Customer Relationship Management system is like a foundation to grow your business. Let's take a closer look at how a Free CRM system can be the best allies for improving your customer experience.
Customer Relationship Management Software comprises of four major parts:
Understanding the needs of the customers
Executing or delivering the requirement of the customers
Predicting the future needs of the customers
Responding customer needs with targeted communications
With a robust Free CRM such as the ITarian Customer Relationship Management Software, you can manage both the business operations and customers interactions simultaneously. It will help you to track and organize existing customer base. The ultimate aim of Free CRM software is to establish a healthy relationship with customers so that they keep coming back- returning customers.
Why Free CRM Software for Your Business?
As seen earlier, CRM software plays a critical role in achieving customer satisfaction. A robust Free CRM solution provides valuable insights into the customer behavior which you can use to modify your business operations.
In essence, Free CRM software helps your business to understand the needs of your customers and to improve customer relations. With a good Customer Relationship Management software, your organization can increase profitability by:
Offering products and services that match customers' needs and expectations
Providing trustworthy customer service
Cross-selling their products and services more effectively
Apart from that CRM software also helps the sales staff to close deals faster, retain existing customers and to discover new potential quickly. It also simplifies marketing and sales processes.
ITarian's Free CRM software keeps track of your customers' interests and helps you in modifying your products and services according to the customers' needs.
Why ITarian Free CRM?
With ITarian Free Customer Relationship Management solution, you can get all the CRM power you need without any add-on baggage. Our Free CRM program will help you in managing and tracking leads more efficiently, thereby helping you gain customer loyalty.
With the Free CRM tools in ITarian, you'll be able to create, manage, and track marketing campaigns quickly. When your leads pour in, our automated workflows integrate with your business systems to create quotes and proposals to simplify the overall sales process.
ITarian Free CRM Software Benefits
Sales process automation
Automate workflows to better manage the sales pipeline by streamlining and optimizing the entire sales cycle.
Efficient lead management
Prevent leads from going cold by passing them over to sales quickly for follow-up.
Lead nurturing
Warm up leads so they are sales-ready when you deliver them to reps.
Holistic view of customers and prospects
Centralized access to all customer- and prospect-related details—communications, activities, product and service details, etc.—increases effectiveness and maximizes revenue potential.
Automation of quote creation and delivery
Deliver a professional quote quickly with interactive tools that generate proposals in minutes, even with distributor pricing.
Sales order automation
Create a positive initial experience by converting your new win into an order or project efficiently so you can start immediately.
HTML email and form design
Create polished emails, landing pages, and forms with customizable templates and simple drag-and-drop functionality.
Campaign performance analytics
Track, analyze, and measure results so you can focus resources where they'll have the most impact.
Marketing and sales alignment
Automated notifications and reminders for deal closings, renewals, win announcements, etc., keep everyone in sync and on track.