Most of us have experienced what happens when Windows is updating: We see a blue screen with a progress indicator on it. This is Windows's automatic update feature, but you can also let a third party handle this for you. This is when you start searching Google for the best patch management software.
Patch management is the process of patching or updating applications in computing devices. A patch contains software bug fixes and upgrades as well. Most patches contain security updates that address previous vulnerabilities. The best patch management software will help you get the latest patches.
Patch management not only covers application updates but also hardware updates. Device drivers are programs that control or "drive" a specific type of hardware. An example would be the drivers for your mouse and keyboard. Firmware refers to the permanent software inside a hardware device. A popular example is the BIOS firmware. The best patch management software provides device and firmware updating features.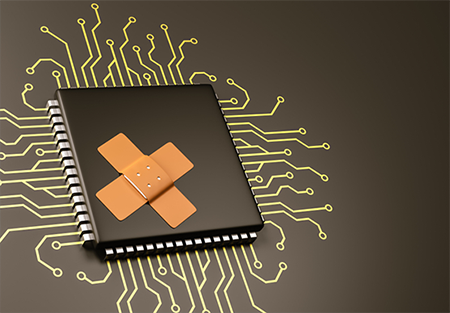 You will learn about the importance of patch management software in the next section, along with the many benefits of using a cloud-based patch management program. You will also understand why using apatch management software like ITarian is advisable.
Why the Best Patch Management Software Is Important
Here are a few reasons you need the best patch management software for your business:
Reasons
Description
1. Insecure Software
Software is the general term for all applications and programs. They are man-made and because of this, are prone to bugs or errors. There's no such thing as perfect software.
The best patch management will get timely fixes for these programming errors.
2. Unsupported Software
Microsoft will stop releasing patches for Windows 7 by January 2020. This is an example of a vendor stopping their support for a certain software.
New security holes will surface once this support ends. It is no longer advisable to use such a program due to the unavailability of patches. The best patch management should be able to notify you in advance about this.
3. Outdated Antivirus
People use antivirus in their computing devices to protect their sensitive data. They should update the antivirus database on a regular basis; otherwise, it's useless.
The best patch management will alert you of the latest antivirus updates.
4. Money-saving
It saves you a large amount of money if you are able to prevent a security breach from happening. Patching the vulnerabilities in time will prevent such security breaches.
The best patch management software is proactive in searching for the latest updates. Staying up to date saves you money.
5. Less Technical Work
Going to every vendor site for the latest updates is tedious. Installing every patch for every application is also tiring. A cloud-based patch management software will remove the stress of such technical work.
The best patch management automates the tasks for you and manages it all on the cloud.
Benefits of the Best Patch Management Software
The primary purpose of patch management is to repair software vulnerabilities. New patches contain the bug fixes for known flaws, as well as driver and firmware updates. ITarian patch management allows you to:
Identify which endpoint devices contain vulnerabilities and need patching.
Create policies to automate the application of updates to endpoints at scheduled times.
Deploy operating system patches for Windows and Linux computers from any location.
Offer a statistical breakdown of available updates for endpoint machines.
Here are the other benefits you get from using ITarian patch management software.
Benefits
Description
Comprehensive Patch Sourcing
The best patch management software supports different sources of patch intelligence. This includes the following:


Microsoft Security Bulletin.
Software Vendors.
Common Vulnerabilities and Exposures (CVE).
Automated Crawler Systems.

ITarian does a good job of gathering patch intelligence.
Automated System Discovery
The best patch management software gives a real-time picture of your network. ITarian automates the discovery of endpoints and identification of missing and installed security patches.
Prioritization and Scheduling
The priority of deploying patches depends on the severity, vendor, and type. The best patch management software should automate the scheduling of critical updates. ITarian also notifies you when to get and issue patches.
Powerful Deployment
ITarian patch management software can install patches by time, computer, and group. ITarian can also schedule patch installation through the triggering of events.
Change Management
The best patch management software tracks and reports the following:


Endpoint patch policies.
Network status changes.
Applied and missing patches.
Failed deployment attempts.

Review and Evaluation
The best patch management software tracks and patches every application across the network. This gives visibility into global patch inventory. ITarian uses advanced network status and health reports.
Compliance
You can configure ITarian patch management software to the schedule you set. This maintains consistency and compliance for the whole business.
Testing
ITarian patch management software can do extensive and deep testing. You can run and test patches one by one or by bulk.
Conclusion
You learned the definition, importance, and benefits of patch management software. You now know why ITarian is one of the best patch management software vendors today. Hurry and sign up to get yourtrial!