An employee having a technical issue would seek immediate help from their supervisor. If the boss is unable to resolve the issue, they create a ticket and send it to IT. Service desk handles this and sends the ticket to the appropriate person. But what is a service desk?
A service desk is the single point of contact (SPOC) between the IT department and the employees or users. IT first sorts out or classifies a ticket according to its difficulty. Then it assigns the ticket to the person with the right set of skills for resolution.
What is a service desk and why is it necessary? It is a ticket management system that allows companies to achieve effective workflows. These workflows are for the internal and customer-facing support departments. The main goal is to make sure that users or employees will receive timely computer helpdesk support.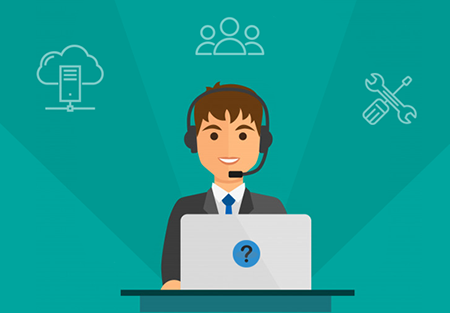 What is help desk? It's the department that handles the technical concerns of the employees. The responses from help desk come in the form of emails, calls, and chat messages, among others. A service desk is a software, and a help desk is a group of people or department. Now you know the difference between these two confusing terms.
You will learn more about the difference between a help desk and a service desk in the next section, as well as the types of service desks and their great benefits.
The Difference Between a Help Desk and Service Desk
Let's take a look at how a service desk differs from a help desk by examining their qualities. Here is a table containing a few of these qualities:
| Service Desk Qualities | Help Desk Qualities |
| --- | --- |
| Provides service/self-service catalog functionality. | Manages the knowledge base. |
| Integrates with CMDB, asset management, and asset discovery. | Provides problem resolution and escalation procedures. |
| Completes incorporation with other IT service management processes. | Adheres to service level agreements (SLAs). |
| Functions as a single point of contact (SPOC) for all IT applications, areas, and business processes. | Offers self-service options for end users. |
| Enables the business to be compliant with service level management agreements. | Behaves as a single point of contact (SPOC) for IT support. |
| Assists with break-fix, service requests, and information requests. | Uses a tracking solution for all incoming incidents. |
| Focuses on IT service-centricity. | Automates ticket tracking, routing, and email notifications. |
| | Offers basic incident and problem management capabilities. |
| | Allows limited integrations with other IT service management processes. |
The Service Desk Types
There are four types of service desk available today:
1. Local Service Desk
This type of service desk serves the needs of small or medium-scale enterprises (SMEs). The location of a local service desk is within or near the enterprise's premises. It is not capable of handling large numbers of calls and service requests.
2. Centralized Service Desk
This type of service desk can handle huge volumes of calls and tickets with only a few people. A company that has local service desks can merge them into one centralized service desk.
3. Virtual Service Desk
This is the most common type of service desk found in enterprises. A single and centralized service desk handles all tickets from various geographical locations.
4. "Follow the Sun" Service Desk
Some companies prefer to combine their service desks from different geographical locations. This enables them to provide 24/7/635 services.
Service Desk Benefits
A service desk allows the implementation of strong and effective workflows for organizations. Here are a few service desk benefits:
Benefit #1: Always Accessible
Your service desk must provide cloud-based solutions. It should collect tickets from web portals, emails, and endpoint devices, among others.
Benefit #2: Efficient Communication
Your service desk should ensure that customers get the information they need. The resolution must contain customized greetings, automated updates and emails, and scripted responses.
Benefit #3: Useful Workflows
Your service desk must be effective in handling tickets. It should automate the routing of tickets and offer service level agreement (SLA) tracking. It must also be able to handle and manage escalations.
Benefit #4: Visibility and Reporting
Your service desk must be easy to use and have a friendly interface. It should also have tracking and reporting capabilities.
Benefit #5: Shared Knowledge
A shared knowledge base is important. This helps your help desk team to document issues and their resolutions. This reduces incidents from reoccurring.
Conclusion
You learned what is a service desk and its difference from a help desk. You also know the different types of service desks and their great benefits, as well as what a service desk can do for your business.
For more information on what is a service desk, please click here.