Introduction To Information Technology Service Management
A common scenario that happens in a company is when someone asks for technical help. That person creates a ticket containing the details of their technical concern. This becomes a burden for the IT department if the company has many employees. This is manageable through ITSM. But what is the Best ITSM software for your organization's needs?
ITSM stands for Information Technology Service Management. ITSM is a way of managing or handling various IT services in one place. It also refers to all the activities an organization would do to meet the needs of their customer. IT service management is deployable through the cloud as a software service. On-premise deployment of ITSM is still common as well.
There are a lot of ITSM vendors out there. Choosing the right one is essential to your business. They should also adhere to ITSM standards like the ISO 20000. This aligns the ITSM processes with the business' needs and international best practices.
You will know some IT Service Management software features in the next section. You will also discover one of the Best ITSM software vendors today.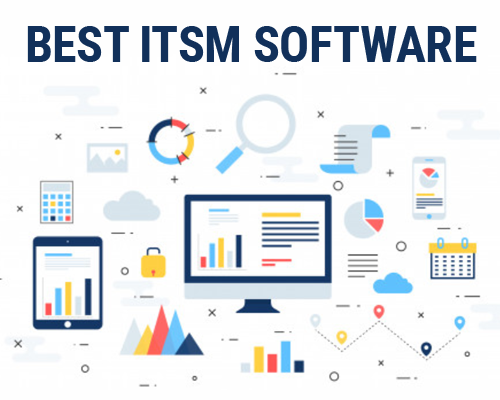 Best ITSM Software 2023 Features To Look For
We look at the advantages and disadvantages of a product that we would buy. We also read its reviews and ratings from existing users based on their experience. The same applies when choosing the best ITSM software for your company.
Here are some of the best ITSM software features you should consider:
Helps in standardizing and integrating IT methods across all departments. The goal of ITSM is to put in one place or to centralize IT processes. The best ITSM software should help your staff do their work better.
The best ITSM software should also improve the return on investments or ROI of a business. Using ITSM tools lead to an increase in productivity which affects the company's income.
Employees perform better if they have the right tools for work. They can find the right information faster. They can also solve problems quicker. The best ITSM software turns employees into efficient workers.
The best ITSM software helps in visualizing workflow processes. The differences in the workflow are easier to distinguish. This also helps in troubleshooting as it gives you a better picture of the technical problem.
If something saves you money, then it is great. One of the best ITSM software features to look for is cost reduction. Deploying an ITSM platform is cost-effective than hiring a staff of professionals.
The best ITSM software offers asset management capabilities. There are two basic types of assets: hardware and software. Examples of hardware assets are routers, servers, and workstations. Examples of software assets are firewalls, antivirus programs, and operating systems. Tracking the changes to these assets is quicker. Management of these assets is all in one place.
Having an ITSM platform reduces conflict across all departments. People blame others for their problems because they can't find the solution right away. This applies to a working environment as well. Using an ITSM tool, the root cause of problems are quicker to find. This prevents the above scenario from happening. This makes everyone happy while at work. A positive atmosphere makes employees productive as well.
The best ITSM software lets you conduct an employee performance appraisal better. It is easy to determine employees who don't perform well. This is because all the reporting, tracking, and analytics are in one place.
The Search For The Best ITSM Software Vendor
You already know some of the best ITSM software features to look for. Those are the standard features you can find in an ITSM tool. It is now time for you to choose the right ITSM vendor for your needs. Your vendor should also add some distinguishing features to their ITSM product.
ITarian fits the description. There are some features where ITarian triumphs over the competition. Here are some of the best ITSM software features that ITarian offers:
ITarian provides support for endpoint devices. This includes laptops, smartphones, and tablets among others. ITarian supports any external device with a connection to the network. It supports iOS, Android, and Windows devices as well. Businesses with a BYOD or Bring Your Own Device environment benefits the most from this.
RMM is one of the best ITSM software features that ITarian offers. It stands for Remote Monitoring and Management. Here some of the IT services under RMM:
Updating the operating system
Active maintenance
Updating virus definitions
Hard disk defragmentation
The best ITSM software uses a Network Assessment Tool. This lets you do many important things like the following:
Vulnerability scanning
Risk mitigation planning
Analytics
Customizable reports:
Client Risk Summary Report
Change Management Report
XP Migration Readiness Report
Full Detail Report
Asset Detail Report
Excel Export Report
Conclusion
You now know the various benefits of using an IT Service Management software. You also learned about one of the Best ITSM software provided by ITarian. What are you waiting for? Sign up now and get this amazing product for free!