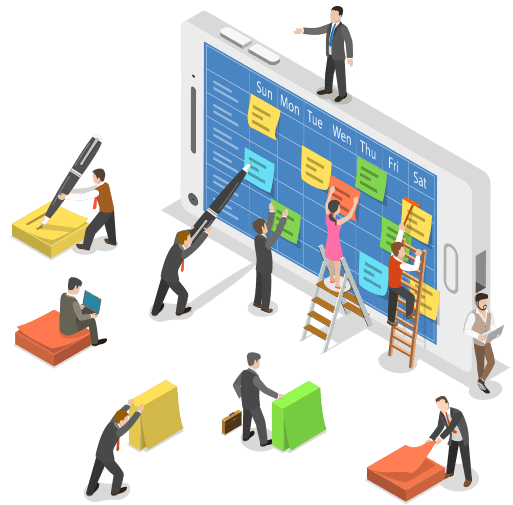 ITarian Dispatch:
Assigning technicians requires a careful balance of availability, workloads, and schedule management. Manual or inefficient dispatching processes take time, keeping tickets open—and customers waiting—longer than necessary. ITarian's Dispatch automates timesheets and dispatch processes to assign tickets to resources in a round-robin or based on availability.
ITarian Dispatch helps you:
Automate the ticketing process
Pre-schedule resources to fulfill obligations
Integrate workflows across the service lifecycle
Spot trends with data from service histories
Monitor project status daily
Manage profitability with tools for tracking and analysis
Streamline the billing process via automation
Key benefits and capabilities
Fully integrated ticketing and dispatch
View service tickets by account to accelerate service calls, monitor technicians' schedules on a master calendar, and assign each service call to the best resource.
Automated ticket processing
Configure workflows to streamline ticket processing by automatically converting email alerts into service tickets, queuing the tickets with the appropriate resource, notifying the technician, and escalating issues when needed.
Round-robin or workload-based assignments
Distribute ticket assignments evenly across resources regardless of workload by assigning tickets to technicians in turn, or calculate workloads and assign tickets to the technician with the lightest load.
Graphical dispatch dashboard
See who is available and simply drag tickets onto their calendar, which can be synced with Outlook to automatically notify technicians about calendar changes.
Pre-scheduling
Schedule technicians in advance to reserve sufficient time to cover service contract obligations to avoid conflicts and overbooking.
Remote monitoring
Continuously improve services by pulling data from remote monitoring tools into the ticketing system to provide visibility to boost service productivity.
Billable hours capture
Automatically capture every billable hour on a project along with other items ready to be invoiced, including pro-rated or pre-billed items.
Project status updates
Check in with clients regularly with current information, control how much time is spent per client, and identify trends.