But while technology is essential to deliver work, that doesn't mean that it is foolproof. Issues may still arise sometimes and this could put your company in serious jeopardy. As such, it is necessary for business leaders to uphold high-quality IT performance to avoid possible errors and not end up having discontented users and customers. Fortunately, you can do something to detect and prevent failures. For one, you can conveniently use a reliable dashboard system monitor.
Monitoring systems aim to track the IT assets used by an organization. This includes hardware, networks, communications, operating systems, and other applications, among others. In order to examine their operations, performance, and health status, you can seek assistance from a good dashboard monitor. It will enable you to oversee your devices and alert you if they detect any problems.
To discuss further, here are the reasons why you need a monitoring system: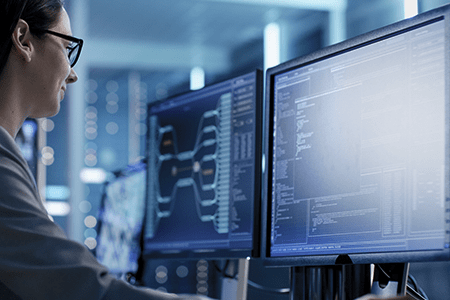 Allows you to use the equipment for long
With a dashboard system monitoring, you can prolong the life of your hardware by ensuring that they are working optimally at all times. For instance, when a computer is not working properly, the monitoring system can detect it, alert you about it, and repair or replace it. This way, you can put the equipment to work for years to come.
Prevents catastrophic incidents from happening
Imagine that you have an online store and your website is not functioning properly. Without a dashboard monitor or a monitoring system, it could take hours before you even realize the problem (which is even probably because of a user's complaint). This could result in a significant loss of money. A monitoring system can warn you of any problems as they arise so you can prevent them from accumulating. When these incidents are prevented, you can save time and money.
Better company reputation
If your organization's IT equipment is down, you may not be able to provide your customers with the right service. This will not only prompt you to lose sales; your customers may think that your business isn't going well. They could pass on this bad experience to their friends, colleagues, or family, or even post it on social networks. This bad publicity can further damage your business. By using a dashboard system monitor, you can avoid the pitfalls of system malfunction and the image of the company will improve.
Save more time
IT issues, like network monitoring, can be draining for your staff and may distract them from focusing on their key goals. By handling those issues effectively, your employees are free to concentrate on their objectives without having to worry about your network's safety. Your qualified staff can devote their time to more important activities, knowing that if an issue arises, they will receive alerts. Less time spent on controlling your systems manually boosts your overall productivity. Monitoring software can offload IT services, letting you focus on the business side of things.
Ensure profitability
Although you can't predict disaster, you can prepare for possible network errors. Anything can cause downtime, and this could affect your profitability. Having the ability to prevent it from happening is necessary. Dashboard system monitors can look over various network activities and identify errors before they even cause disasters. When you have a smooth network, there will be no downtime and lost profit.
Robust security
Another thing that can lead to downtime is a malignant cyber-attack. Whenever there's an attempt to penetrate a company's system through pieces of malware, dashboard system monitors can catch those unwanted visitors and ensure that your business is protected.
Increased productivity
A dashboard system monitoring tool can keep an eye on your current hardware and software. It singles out what's inefficient, degenerating, or working as intended. This will suggest how to improve your infrastructure's performance and create roadmaps for updating your technology. This ultimately boosts productivity since your employees can use the latest equipment.
Final Thoughts
A dashboard system monitor can help you find solutions to a wide range of IT problems. It gives you complete visibility of all of your hardware and software assets, so you can ensure the efficiency of your network. Reduce the number of incidents and downtime occurrences by having monitoring software in your organization. Contact ITarian today.