What is Patch Management Software?
Patch Management is an IT strategy for enterprises/organizations to manage patches for software applications. It enables an organization to efficiently deploy updates, identify vulnerabilities, and create custom patch policies.
Many times problems are encountered in software after their release. The providers of the software release "fixes" for these problems as patches. When security issues are encountered, the provider releases patches as hot-fixes. Patch management involves maintaining the applications on enterprise-network connected devices, checking for available patches, deciding on appropriate patches, testing them and then deploying at a suitable time. Many enterprises employ automated patch management systems.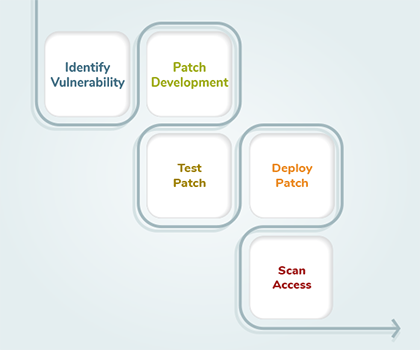 Patch Management: The Benefits
Manual patch management would be a futile exercise for any medium or large enterprise.
With the adoption of mobile devices and encouragement for BYOD, the varieties of devices to be managed by an IT administrator has increased many folds. Efficient patch-management can thus be ensured only through an automated system.
Some of the benefits an automated patch-management system offer are:
A user-friendly dashboard that provides overall detailed data of the patch updation status of all devices connected to the enterprise network
Details of the available updates for all the devices connected to the network
Supports multiple operating systems – Windows, Linux-based devices
Remote management and deployment of operating system updates
Remote management and deployment of software applications including endpoint security/antivirus solutions
Facility to create policies for automatic application of patches to groups of endpoints/devices at specific times, so as not to affect production
Identify endpoints that may contain vulnerabilities and require immediate hot-fixes/patch updates
ITarian Explains Patch Management
Patch Management is essential for any enterprise, and manual patch-management would place a heavy stress on IT administrators. An automated system would effectively serve the purpose. Not having any patch-management system is even riskier.
ITarian Patch Management is the best solution available in the market because it enables easy deployment of updates, identification of vulnerabilities and creation of custom patch policies. It features an easy to view and understand dashboard that provides up to date statistics. ITarian Patch Management supports multiple operating systems and devices – a unique feature that is very useful for IT administrators and Managed Service Providers (MSP).
Related Patch Management Software Sources: